Cypress View Foundation: Seniors are facing provincial challenges
Posted on May 14, 2019 by 40 Mile Commentator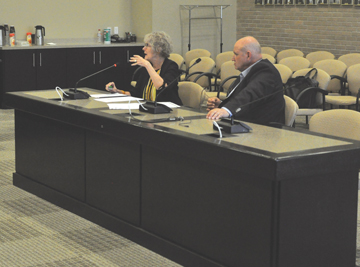 Cypress View Foundation Medicine Hat representatives Julie Friesen and Jim Turner spoke to county council about how the seniorshome's current stance on May 7.
By Justin Seward
Commentator/Courier
Cypress View Foundation board members Jim Turner and Julie Friesen provided an update on the seniors care facility to Cypress County council at its May 7 meeting.
The Cypress View Foundation is a non-profit seniors housing alternative designed for low to moderate income seniors that are 65 years and older, serving Medicine Hat, Redcliff and Cypress County since 1960.
Provincial challenges have become evident in allowing seniors to live comfortably.
"You probably will think that seniors of today are better off financially than seniors have ever been and to large extent that's true," said Friesen.
"The research shows that in the future that trend will change and they will be less able to afford the cost of living."
Challenges include being able to afford the cost of living, staying in their own home, finding a family doctor, the cost of pharmaceuticals and health care aids and the cost of home ownership.
It is expected that by 2026 there be more 700,000 seniors in Alberta.
Eighty-year-old seniors had made up one-quarter of all Alberta seniors in 2001, which was up from 21 per cent in 1971 and is expected to increase by 160 per cent by 2026.
There are currently 51 spacious one-bedroom units with a complete kitchen for cooking and applicants must have an income of $31,000 or less to qualify.
"We feel like we're an important housing alternative," said Friesen.
"You're probably aware of many senior housing options you can choose from and a lot people can afford to go to the more expensive ones. There are wonderful facilities.
"I can tell you Cypress View Foundation is a wonderful, stellar high quality facility with wonderful food and opportunities for seniors."
Lodge living allows seniors the opportunity to live an independent life style with meals, activities and housekeeping provided.
Another option is assisted living where rooms are available for seniors who require more assistance with their daily care.
Between Medicine Hat, Cypress County and Redcliff, they make up the highest seniors rate in the province.
Vacancy rates were down to six per cent in 2018 from 18 per cent by the end of 2016.