Eagle Butte celebrates their 2019 graduating class
Posted on May 14, 2019 by 40 Mile Commentator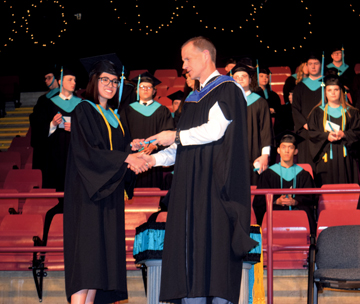 Alberta Newspaper Group File photo Valedictorian Demika Goehring receives her diploma from Eagle Butte principal Mark Heinricks in this 2019 file photo. Heinricks is the new deputy superintendent at PRPS.
By Jeremy Appel
Alberta Newspaper Group
Students and faculty of Dunmore's Eagle Butte High School put on their caps and gowns for their convocation ceremony at the Cypress Centre on May 10.
The theme of the evening was "Don't Stop Me Now" — a reference to the 1978 Queen hit of the same name — and the musical theme was expanded on by student Jake Lavoie-Pierzchala, who performed a rendition of "The River" by Victoria Shaw and Garth Brooks during a musical interlude that marked the event's halfway point.
Valedictorian Demika Goehring opened her address to her peers by crediting their hard work, as well as that of the people surrounding them.
"Every individual on this stage has worked hard to make it to this point and achieve their goals, however today would not be possible without the guidance and encouragement of those around us," she said.
"Today, we not only recognize the achievements of our fellow graduates, but the efforts of our teachers, families and friends to get us where we are today. To begin, I would like to thank our teachers, principals, secretaries, custodians and school board for providing us with the opportunities and environment required to get us this far."
Goehring credited the graduates' families for "teaching us since we were young," referencing her own parents and the role they played in shaping her worldview with a joke.
"Firstly, I'd like to thank my mother, who specifically suggested that I recognize her in my speech," she said to laughter from the crowd. "Mom, I recognize you."
Guest speaker Russell Hillyer, an Eagle Butte teacher, pointed towards a bright future for the graduating class, emphasizing the importance of maintaining positive relationships.
"Some of you have plans for university, some are going to train, some are going to travel and some of you already have worked lined up for when you graduate," said Hillyer. "But no matter what you plan on doing in your life, the most important thing that you need to take with you is people."
The event was emceed by students Sierra Gold and Aiden Heller, and also included remarks from Cypress-Medicine Hat MLA Drew Barnes, Prairie Rose School Division vice-chair Cathy Hogg, who represents the ward that includes Eagle Butte on the board, assistant superintendent Reagan Weeks and principal Mark Heinricks.