Former councillor wins Citizen of the Year award
Posted on May 14, 2019 by 40 Mile Commentator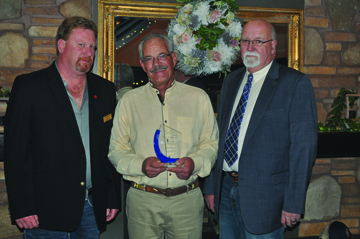 Cypress County Reeve Dan Hamilton (l) and Cypress Courier sales consultant John Roe (r) present George Russill with the Citizen of the Year award.
By Justin Seward
Commentator/Courier
Justin Seward
Commentator/Courier
Former Cypress County councillor of 24 years George Russill took home the 2018 Cypress County Citizen of the Year Award Friday night at the Desert Blume Golf Course.
Russill, who is the first former councillor to win the award, had no idea he won the award until county Reeve Dan Hamilton called his name up to the podium to end off the evening.
"Truly an honour to get your name put on the plaque with all the other Citizens of the Year ," said the Elkwater rancher.
"I'm with a wonderful group of people to think I'm part of that organization. Truly blessed thank you."
He began his 24 year tenure on council in 1989 and realized there is only so much you can do as individual and rather councillors work as a team to accomplish things.
"You all have to pull together (or) at least get the majority to pull and when that happens it's truly wonderful when everybody pulls together. They have a vision and make things happens," said Russill.
"One of the most amazing things of being on council is you pretty well got to see every road in the county. You got to see where everybody lived. Wherever you went, you knew people and you met people, and they all had the same dream that we have . We just try to get by in the world."
He learned a lot from being on committees when he first arrived in the Cypress Hills.
"When I first moved to Elkwater, I never curled," said Russill.
"I got on the curling club. (I) got on the executive, became the president, (the club) went from natural ice to putting in artificial ice and just a commitment, and realize you can make a difference."
Other boards he sat included St. Margaret's Church since the 1980s, The Elkwater Community Association , he was a founding member of the Elkwater Fire Department, director of the Medicine Lodge Stock Association, president of the Elkwater Curling Club until it closed its doors and the Elkwater Golf Course in 2016 and the 2014 Prairie Appreciation Festival was held at their ranch.
"We feel truly blessed to live in the Cypress Hills," said Russill, who lives there full time with his wife Judy.
"We live in the forest. We've got the lake. We love agriculture."
His daughter and her family and his nephew live right beside them.