Local aspiring authors talk about their starts in writing
Posted on May 14, 2019 by 40 Mile Commentator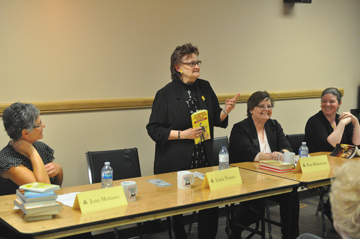 Local authors Joan Mettauer, Linda Penner, Pam Robertson and Deanna Sweeney spoke about their starts to becoming authors during a "Night with the Authors" at the Redcliff Public Library on May 7.
By Justin Seward
Commentator/Courier
A trio of local authors spoke to a packed Redcliff library meeting room mostly of up and coming writers about their journeys of getting to the point of publishing their novels during "An Evening with the Authors" on May 7.
Joan Mettauer, Linda Penner, Pam Robertson and Deanna Sweeney all spoke about their personal experiences of tough times in their lives to places they lived or travelled which were expressed in all of their books.
Sweeney is a Redcliff resident who has completed two books in the Legions of Lilith Trilogy-The Awakening and Ghosts of the Pasts- and has had a passion for any written word from the time she walked to reading Stephen King by the time she was eight-years-old.
"I've had unconventionally a rough life," said Sweeney.
"Honestly reading books and writing books has saved my life on many occasions. I am because of that a huge advocate of literacy. Everybody has the right to know how to read and to be able to escape in the pages of a book. It's something I sadly see going by the wayside in our young people. It's something that I really want to bring back."
For her, writing was a way of escaping by putting ink to paper 10 hours a day and wrote her first book in three months.
"When you read Legions of Lillith, it's very impactful and hits you constantly and never let that go because that's how I was feeling it at the time I wrote it too," she said.
"For me that's why I do it. I was writing when I was little but never seriously until I wrote that book."
Sweeney does presentations with her books to high school kids and she grills them enough to get the message across about the importance of literacy and about caring about something other than Fortnite and Mind Craft.
"That's just a mind numbing waste of time. I can't imagine spending as much time as even my son does playing video games," she said.
A third book is being released in 2020.
Mettauer has published three books including Diamonds in and Arctic Sky, which is about a women names Andrea Nowak having haunted memories of her daughter's passing and fighting her own personal demons. She fled to high above the Arctic Circle searching for peace and solace. The tables turn and she finds intrigue, danger and romance. When Nowak finds out the aircraft she is responsible is being used for clandestine purposes, she investigates with the aid of a local gallery owner and dog sledding enthusiast North Reuben.
North: The Last Great Race tells the story of North Reuben's dream coming true when his team of Canadian Eskimo Dogs head into Alaska's remotest Arctic regions to compete in the Iditarod, one of the most gruelling dog races in the world.
Honeymoon Bay is a character known as Andi Reuben who reluctantly agreeing to North's proposal that they tour Baja California by motorhome and stronger misgivings become a reality as she travels deeper into Mexico.
Mettauer is a born and raised Albertan and it was not until she retired in 2014 that she published her first book (Diamonds in the Arctic Sky).
"I was born an adventurer," said Mettauer.
"I was actually born in Vegreville. I adventured to Edmonton and went to NAIT. NAIT's student lounge used to be on third floor overlooking Edmonton's old municipal airport. I'd sit up there, I was taking some courses and I'd watch the aircrafts come in and take off. I'd always think where are those people going? It'd always stir my imagination. I was looking at this student poster board downstairs at the end of the school year and I saw a job posting for MacKenzie Air."
Mettauer applied for the job and was hired on in an office position and ended up not spending a lot of time in the office and took a flight attendant course.
"I went from the office into the air," she said.
"MacKenzie Air at the time was flying across Canada charter and into the United States and alot into Canada's north and into the Arctic. That's really where my writing journey began because my love for travel and my love of adventure just created so much in me that I could write about."
She says that during her working years there was not enough time to read and once retirement settled in, the first thing she did was read ferociously for three years.
"One day after I finished reading a dissatisfying novel, I turned to my husband and said 'I could write better than that.'"she said.
"He looked at me and said 'Why don't you then? You've had an interesting life.' I scoffed at the idea. After a few months of stewing on this, I started reading every book I could get my hands on about writing."
She then picked up the Stephen King's "On Writing," and it inspired her to write a memoir and her novel writing took off from there.
Penner's novel "A Hitman is Cheaper than Divorce," dives into the thoughts of a nasty break up, while making a person sick and gives the readers the feeling of holding their hair back and losing their lunch.
"It will walk you down the aisle, put you on a marriage counselors couch, a lawyers office and push you in the cesspool of the dating scene," said Penner.
"You will laugh and cry with fabulous flawed women who support each other through the Kraft dinner and the cabernet days of divorce, single parenting, low self esteem, fair-weather friends and financial difficulties."
When Penner retired she decided to join a local writing club to kick start her interest in novels.
"When I retired I joined the Rhyme and Reasons Writers Club and started writing some short stories," said Penner.
"Unfortunately at that time my daughter was going through her own break up. I remembered when I was going through my stressful time I read humour books.
"I bought my daughter a humour book about a dog. She likes dogs and she likes funny stuff. She came to me a week later and said how much that book cheered her up."
She added journaling is a great way of getting words on paper and a start to a potential writing career.
Robertson published "Border Pieces," which is a spy story about Morgan Winfeld, who finds out about being in that line of work is everything is challenging.
"She's getting a little older and not quite as fast as she used to be but she is a really good shot," said Robertson.
"Technology has changed. Its' evolved in so many ways but it's made spying a lot harder. Travelling and popping in and out of countries is more difficult than it ever has been."
Winfeld starts out in Halifax with Irish spy Jake Roy tracking down bad guys before making the trek to Fort McMurray where she surfs the ember of 2016 Wildfire and creating havoc.
"As I am dreaming this dream, I'm thinking 'What if that fire wasn't really what we think that it was?' But they were never really able to figure too much more of that and so my imagination went wild," said Robertson.
"I spent three days one weekend writing the first 10,000 words and I thought I have stop now and do some outlining."
Robertson says if you write by the seam of your pants and wondering how to set up the process, she recommends coming up with plan.
"All you have to do after that is literally fill in a hole," she said.
Robertson volunteered with the Quilts of Valour, an organizations that makes quilts for injured Canadian Forces members. Proceeds from the book go into the organization.