Southern Alberta Summer Games celebrates 50 years in 2019
Posted on May 14, 2019 by 40 Mile Commentator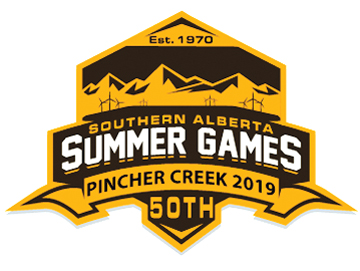 By Susie Heinrichs
We hope that you have been anticipating it because yes, it's that time again — the 2019 Southern Alberta Summer Games, hosted in Pincher Creek, are approaching quickly and planning is well underway! This year's games will be especially exciting as it is its 50th Anniversary. Thus, we are inviting all alumni and newcomers to participate. The original summer games was hosted in 1970 by Pincher Creek and has occurred every year since as a way for individuals and families from southern Alberta, regardless of age and ability, to get active and involved in the community. It stands as the largest and longest-running sporting event in western Canada.
My name is Susie Heinrichs and I am the Forty Mile County Regional Director for SASG this year. I was born and raised here and am so proud of the athletes our region has produced in the past and continues to do so. I invite everyone to come out and represent our county and our community spirit.
The Summer Games celebrates both competition and community, as individuals have the opportunity to participate in a variety of events including: 3, 5 and a 10 Kilometre run, archery, athletics, badminton, ball hockey, baseball, beach volleyball, 3-on-3 basketball, 5 pin bowling, canoeing, cycling, cribbage, equestrian, golf, hand gun, mini soccer, photography, pickleball, quilting, soccer, small bore, strength and conditioning, swimming, tennis, and trapshooting. There will also be an abundance of other fun summer activities, such as BBQ's, music, yoga, and movies in the park, and fun in the water park, as well as an alumni banquet.
Registration began May 7, 2019, and forms are available at the Bow Island Town Office and online at http://www.southernalbertasummergames.com. The registration fee is $25, which includes your event T-shirt. The registration deadline is June 7, 2019. Tickets to the alumni banquet are also available on the website.
If you have any questions, please don't hesitate to contact me at the Bow Island Town Office, Monday to Friday from 8:30a.m to4:30 p.m., or call me at 403.545.2522. Also, follow our County of Forty Mile Summer Games Facebook page, and/or our Twitter @SASG40Mile. Come register, join the fun, and let's anticipate this together.