Buffalos brush back Talons at Athletic Park
Posted on May 21, 2019 by 40 Mile Commentator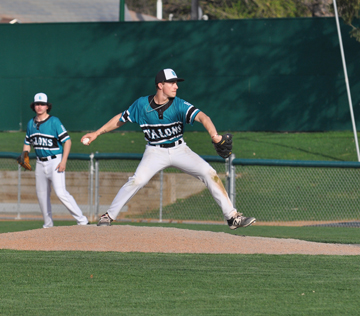 Eagle Butte Talons pitcher Tyler Bang delivers a pitch against the Brooks Buffalos on Tuesday night at Athletic Park.
Justin Seward
Commentator/Courier
The Eagle Butte Talons baseball team could have easily packed it in for the night by the third inning as they found themselves down 11-0 to the Brooks Buffalos during Tier 1 action on May 14 at Athletic Park.
However, the teal and black did not let the scoreboard phase them and the players pulled up their socks and scored six runs in the bottom half of the inning to make the game 11-6
The home team would outscore their Brooks opponents 4-3 the rest of the way but fell 14-10 in the end.
"We really battled back," said Talons' coach Easton Brooks.
"That's one of things we've been struggling on doing this year is once we get down (we) just kind of given up. It was nice to see we got hot on the bats. We were hitting well in the first couple of innings but they just weren't dropping."
Brooks says the team stayed focused the whole game while chipping away at the Buffalos lead and did not make the small errors the players had been making in the past.
He also credits the pitching for only allowing Brooks to score three runs the rest of the way.
"Our pitcher (Tyler) Bang came in a really good time. He pitched strongly for the entire rest of the game and shut them down from the third inning on," said Brooks.
Despite losing the game, he felt the Talons were challenged by leaving runners on base at pivotal times in the game and hitters weren't able to cash in to get their teammates home.
"We just struck out or couldn't find a hole," he said.
The Talons experienced a youth movement this year and only had four Grade 12s on the roster who did take a leadership role.
"All of our Grade 12s are the stronger players on the team," he said.
"Not only do they lead by example but they lead in the dugout. They keep everyone focused. They tell everyone what they're supposed to be doing."
The younger players are following after the Grade 12s and see what they're doing and going along with it, he added.
Eagle Butte wrapped up their regular season on May 16 and officially ended the campaign with provincials in Pincher Creek this weekend.