Children's festival reaches a milestone
Posted on May 21, 2019 by 40 Mile Commentator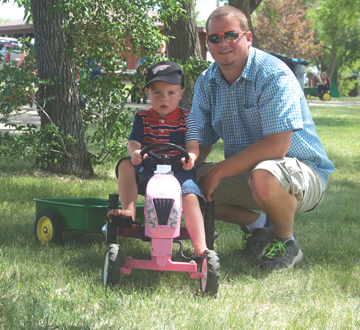 Young Connor Pahl and father Cameron pick out the flashiest pink tractor during the 29th annual Bow Island Library Children's Festival on June 17 at Centennial Park.
MO CRANKER
Alberta Newspaper Group
The Bow Island Children's Festival is reaching yet another milestone this year.
The festival is celebrating its 30th consecutive year running in Bow Island and organizers have yet another year of fun planned for all in attendance.
"This is an exciting year for us, for sure," said festival president Danielle Gruninger. "This is a really fun event for people of all ages and it's an exciting time of year for Bow Island.
"We've got a lot of fun planned this year."
The festival is taking place June 16 this year and runs from noon to 5 p.m. at Centennial Park. If rain occurs then the festival will be moved to the Bow Island Arena.
"We'll see how the weather is leading into the festival and then we'll make a decision," said Gruninger. "The past few years we've had rain, so we're hoping for a bit of sunshine this year."
The festival will feature a lot of the usual entertainment like jump tents, pedal tractors among other favourites — and this year the organizing group booked Indigo Circus with the hopes of making the 30th year extra special.
One of the biggest parts of the festival is that everything outside of food is free for everyone in attendance.
"It's really important for us to make this a truly free event," said Gruninger. "We want everyone to be able to come out and enjoy this and we know putting a price on everything makes it hard for some families to take part in.
"We're thankful for our sponsors that allow us to make this free every year."
More than 1,000 people attend the festival each year and Gruninger says it's a tradition for many.
"A lot of people grew up going to this festival and now they bring their kids," she said. "We get a lot of people from Bow Island, but lots of people who moved away from Bow Island will come back every year for this.
"It's definitely a busy time of the year but it's always a fun day."
Organizers are also encouraging people to bring a food donation for the food bank.
More information on the festival can be found online at http://www.bowislandchildrensfestival.com