Falcons clipped by Vikes in season finale
Posted on May 21, 2019 by 40 Mile Commentator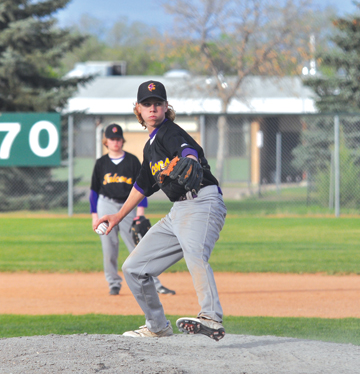 Commentator/Courier Photo by Justin Seward Falcons pitcher Anderson Kurtzweg delivers a pitch during the team's season finale against the Crescent Heights Vikings on Wednesday.
Justin Seward
Commentator/Courier
The Foremost Falcons baseball team did not get the result they were looking for in their season finale against the Crescent Heights Vikings at Jefferies Park on May 15.
The rebuilding Falcons, who only had one Grade 12 on their roster this season, fell 15-1 to the Vikings in four innings.
"It's tough," said coach Brady Vanstaalduine.
"Overall you've got to make the simple plays, throw strikes and just pick each other up all the time. It didn't happen today."
Vanstaalduine felt the year was battle because of seeing his roster reduced over the course of the season.
"We've had some injuries. We're were down to 10 players, we started with 13," he said.
"When you're a school where your only taking the 10 kids that show up and these guys have, it's tough. They're a young team too, I only have one players that's graduating."
The future looks bright for the club and there are encouraging signs heading into next year.
"I knew it was going to be a rebuilding year," he said.
"There were some good swings. This was a rough game for them but there was improvement over the year. They were making less fielding errors (and) starting to swing the bats a little better. I wish the season was a little longer so I could have more time with them just because we only play for six weeks."
Vanstaalduine, who played ball at the beginning of Foremost's program eight years ago, said there is not a lot to do in Foremost and if the players come out to play, that will be the motivating factor to keep the program going with the participation.
He is looking forward to next year because there are talents coming from the Grade 8 and 9 level and hopes to get them out throwing in the school's gym for preparation in the winter months.