Redcliff RCMP presents five-year plan to council
Posted on May 21, 2019 by 40 Mile Commentator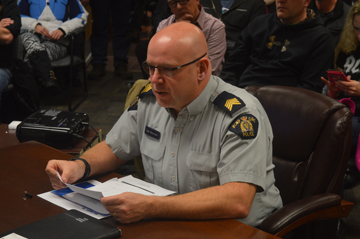 Commentator/Courier file photo Redcliff RCMP Staff Sgt. Sean Maxwell says the UCP's plan to address rural crime is a positive step forward.
By Jeremy Appel
Alberta Newspaper Group
The Redcliff RCMP has prepared an updated financial plan for the next five years, as required by the Municipal Police Services Agreement.
Staff-Sgt. Sean Maxwell presented it to town council at its May 13 meeting after breaking down crime statistics for the first quarter of 2019.
"It discussed an overview of the town and an overview of the current needs of policing within the town," Maxwell told council.
The plan was produced to keep the town in the loop about the RCMP's policing needs, not to procure additional funding, he added.
"We're not looking at any anticipated increases to resources at this time," Maxwell said. "Any anticipated increases in resources would be discussed with council over a long period of time."
The only new equipment cost for this year are line speed upgrades at a cost of $3,000, which Mayor Dwight Kilpatrick said, "We'd all like to see."
Next year, equipment costs are projected to jump to $18,695, which accounts for WiFi hardware installation ($11,400), an Alberta First Responder Radio Communications System ($5,765) and additional line speed upgrades ($1,800), as per the plan.
The report also lists some equipment the detachment could use in the near future.
"The RCMP does a lot of research and they examine what's going on with policing in North America and the world," he said, adding that some of the selections — such as body armour and service pistols — are upgrades on what they currently have.
According to the report, the Redcliff detachment has a population of 701 people per officer, compared with the municipal division average of 635.
The amount of criminal charges per member is 40.9, significantly lower than the average of 97 for municipalities with 5,000-9,000 people.
Tax Rate Bylaw updated
Town council voted to increase property taxes by 2.1 per cent as part of its annual Tax Rate Bylaw update.
The town is levying $5,478,934 in taxes for 2019, compared to $5,366,708 last year.
The most significant change is in farmland levies, which increased to 2.58 per cent from 1.9 per cent, or $141,308 from $102,083.
The Cypress View Foundation Requisition, which Cypress County, Medicine Hat and Redcliff collect for seniors housing, increased by four per cent — to $75,454 from $72,554.
School requisitions, which municipalities collect on behalf of the province, won't be set until the UCP government passes its first budget, but administration estimates they will increase to $2,151,285 from $2,054,688, a rate increase of five per cent for residential and farmland and 4.2 per cent for non-residential.