Regional landfill project to commence this summer
Posted on May 21, 2019 by 40 Mile Commentator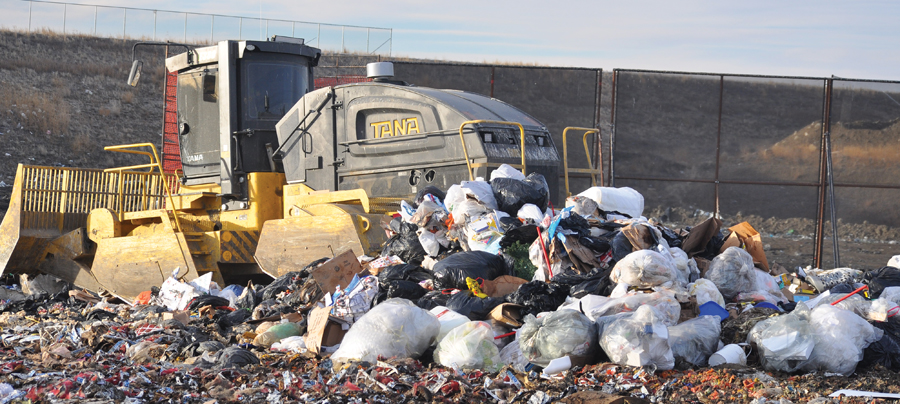 Commentator/Courier Photo by Justin Seward SCRUNCHING UP THE TRASH:The bulldozer was out crushing up rapid piles of garbage on Friday at the Redcliff/Cypress Landfill.
By Scott Schmidt
Alberta Newspaper Group
With the tendering process set to begin, officials with the Town of Redcliff's public services department expect upgrades at the landfill to commence early this summer.
"The hope is to move dirt in about a month, month-and-a-half," said director Corey Popick. "Obviously weather factors can come into play, there's mobilization and demobilization from whomever the awarded contractor is, and you have to finalize all your permits.
"But the hope is to start in that four- to six-week area."
Expecting several proposals, depending on how busy local companies are, Popick expects the budget for the project to be about $3.2-$3.7 million when all is said and done.
The project includes installing an inbound and outbound scale system with centralized scale house, dome tent for storage, operations building and a public drop-off transfer station that will prevent citizens from further having to enter the working landfill cells.
"The base earthworks and the scale system should only take about six to eight weeks of construction," Popick said. "The scales and the scale house are coming in already prefabricated, so it's just a matter of doing the earthworks, putting in piles and then putting the systems on the piles.
"The public drop-off is going to be constructed at the same time frame as that."
Weather permitting, and assuming the tendering-through-to-permit process goes as planned, that should give the public operational use of the landfill's new systems by the Labour Day weekend in September.
The operations building and storage facility will, of course, take a fair bit longer to complete. Construction for the entire project will not affect the public's use of the landfill this summer.
"The existing infrastructure will still be open and operational as status quo during construction," Popick said.
When complete, public access will change, as the two-way scales and drop-off area will be on a new section of the same land, moving up Range Road 71 closer to the Highway 524 and Trans-Canada intersection. Popick says the big advantage for the public will be getting to avoid the landfill cells, using a drop-off area at the front near the scales.
"Only commercial traffic will have to go to the cell," he said.
Landfill fees are $10 for waste under 250 kg, and $72/tonne.