Schuler's McLean looks to lead the charge in junior Sun Devils' second half
Posted on May 28, 2019 by 40 Mile Commentator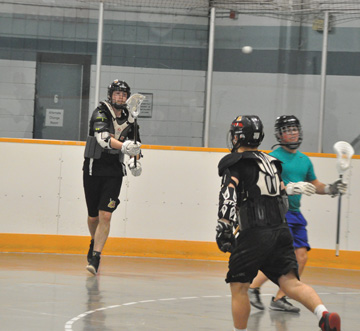 Sun Devils' Aidan McLean working through the drills at practice on May 21.
Justin Seward
Commentator/Courier
While the first half of the Medicine Hat Sun Devils Junior B Tier 2 lacrosse's team's season has been mediocre at best (a record of 2-4), the hope was to start second half last weekend with some wins to move up the Rocky Mountain Lacrosse League's South West Division's standings.
The Sun Devils really battled it out in the first half, facing teams that have much more of a veteran presence with more 20 year olds in their line ups, where as Medicine Hat have dressed only a handful of veterans this year.
Schuler native and team captain Aidan McLean says to have players he has competed with the last five years dating back to their minor lacrosse days, including Noah Weimer, Izaak and Noah Loran, Tegan Rogal and Daniel Drefs, has helped build the core for an otherwise roster full of 16 and 17 year olds
"It's kind of nice to have that building block to start from," said McLean, an 18-years-old third-year player.
"Then the younger guys we haven't really played with fit in quite nicely as well. I think it'll be a focus on getting our systems down. It's tough, we've got short guys, lots of new guys (and) it's tough not having those older guys that can really control the game like we did last year and the year before."
As team captain, he tries to be vocal with the players and set a good example.
"I don't like to spout off to anybody or the refs," said McLean.
"I like to try and stay someone they can look up to and what to do on the floor, rather then what not to do."
McLean says in his time with the Sun Devils he has noticed that the program has gone from five guys who could dominate to transiting into more guys who run a system.
"I think cardio is big one," said McLean.
"I think most times we can outrun a team. We do take our cardio pretty seriously, so I think that really helps, especially (if)they're a more skilled team than us. It can really help to out run them."
With one-third of the team being from the surrounding rural area, McLean said "it really helps getting the tough farm boys coming in." "It really helps toughen all the other guys up a bit."
Rogal had to make the adjustment from being a solely mid-fielder player, which is a position where the player carries the ball up to the offence and stops at center until the team loses the ball, to an offensive player.
"It's been stellar,"said Rogal on the transition.
"The chances to score… Coming up on offence, I'm learning a lot too, I use to be totally lost on offence and feeling good about it."
Being behind on their record has been new territory for the team.
"We had some tough games at the beginning, said the fourth year player.
"We had the regional champs, the second place, the third place, we've all played. But our second half looks a whole lot easier, a lot of newer teams, it's looking up."
He has stuck with organization because of the good people running the team and finding a real passion for the sport after playing football.
It appears the Sun Devils are back at the .500 mark after thrashing the Calgary Sabrecats 13-1 on Saturday and doubling up the Rockyview Range on Sunday.