Sons of the Pioneers to hit the Medicine Hat College stage
Posted on June 4, 2019 by 40 Mile Commentator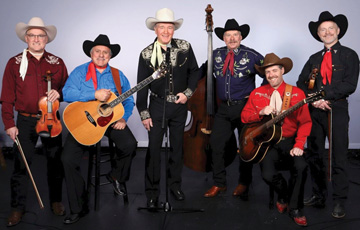 Photo Submitted by Margaret Morrissette The Sons of the Pioneers will be performing in Medicine Hat on June 19.
By Justin Seward
Commentator/Courier
The Sons of the Pioneers or also known as the "legends of Western music," will be taking their 85th anniversary International Tour through Alberta and Saskatchewan from June 12-22.
The current band members consisting of Tommie Nallie (guitarist), Ken Lattimore (fiddler), lead singer 'Dusty'(Roy) Rogers Junior, John Fullerton (harmony vocalist, rhythm guitarist and band historian), Paul Elliot (violinist) and Chuck Ervin (bass player) perform a show that is synonymous to the ultimate Cowboy music.
Rogers, whose father Roy Senior began the band back in 1934, always look forward to touring to Canada.
"We're looking forward to coming back," said Rogers, who has been the lead for a year-and-a-half.
"The folks up there have been really nice to us. My dad (Roy Rogers Senior) started this group in 1934 and we've been going this year (into) our 85th year. So not only are we enjoying it, (but) the fact we're coming back to Canada with such great fans up there, it's phenomenal. There's no group alive I know that's been going for 85 years."
Rogers says he feels that fans in the States get jaded as they are treated to shows all the time within 100 miles where they get entertainment all the time, while in Canada the entertainment scene is more rural and farmers and ranchers can't easily access shows.
"For them it's a treat to come in and see a show," said Rogers.
Since 1934, there have been around 50 members of the group as musicians would either retire or pass on in life.
"The guys went out and searched the country over for a certain sound," said Rogers.
"They always want a certain sound because the Pioneers are known for that particular sound and we have changed it. We didn't want to change it. We're singing the same vocal arrangements as some of those Pioneers that first started. It's been very rewarding because I'm a lead singer, I don't hear harmonies that well, (and) for me it was a learning curve. I usually sing lead and so did dad when he was with the Pioneers."
The band is world renowned for their unique three and four-part harmonies, which was often referred to as the Pioneer sound.
"They would switch off. Dad would drop down to the middle voice, Bob Nolan would go on up, Tim Spencer would take it and go to the high point. It was a learning experience for me but I tell you what it's been rewarding. The guys have been very patient with me.'"
Rogers Junior grew up around the original band and was on the road constantly and him along with the nine other siblings would make the trips to shows.
"When we were younger, we went on the road with them a lot. They couldn't spend a lot of time with us, but when we did, we'd go with them on the road.
"State fairs, rodeos and came up to Calgary a few times with dad. We sang cowboy songs most of the time. But when I got a little older and started doing my own thing, I didn't want to do the same thing dad was doing. I started the country music end of it and sang country music for 30 years."
His retirement from the entertainment industry only lasted four years as it was that long ago that he was called to see if he had interest in working with the Pioneers.
"I'd love to," his response was.
"How many guys get to join their father's group that their dad started 85 years ago. I think it's almost unheard of. It's a labour of love working for these guys and they do such a great job. It's my honour to work with them all."
Through their type of music, fans past and present, have listened to songs about the western landscape and the cowboy life. Tunes include favourites such as "Tumbling Tumbleweeds," "Ghost Riders in the Sky and "Cool Water."
Their music has been recorded by Bing Cosby, the Boston Pops, Diana Ross and the Supremes Frankie Laine, Johnny Cash, Riders in the Sky, Michael Martin Murphy and the Muppets. Their tunes could also be heard in Coehen Brothers featured "Tumbling Tumbleweeds" in their classic movie, "The Big Lebowski."
Even Walt Disney called upon the Pioneers to do the soundtrack for "Pecos Bill."
The Sons of the Pioneers will be playing at the Medicine Hat College Eresman Theatre on June 19 (7:30 p.m.). Tickets are available through http://www.buy.tixx.ca/sonsofthepioneers.