Water wheelchair available at the Bow Island pool
Posted on June 4, 2019 by 40 Mile Commentator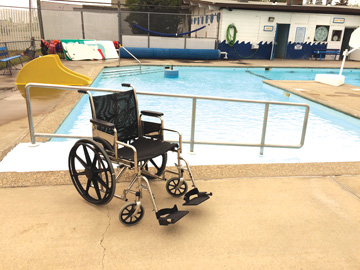 Photo submitted by Cass Andreas The Bow Island Swimming Pool has a water wheel chair available for those looking for some assistance getting in the water.
By Justin Seward
Commentator/Courier
The Bow Island Swimming Pool opened for the summer on Friday and have a swimming aid to help those swimmers that are limited in mobility to enjoy the water.
The town purchased a water wheelchair over a season and a half ago, which according to pool officials has been slow start to being used.
"The wheelchair is under utilized," said Cass Andreas, pool supervisor.
"The wheelchair can also be used for someone who can't stand by themselves or walk-in using our stairs into the water. Once they're in the water they're usually able to stand with a floating assist. It's a good way to get in and from there (the pool), people can actually work on walking in the water because there is a lot less weight."
The chair is specialized because it is made of a material that dries fast and isn't worn down by the water.
Andreas says the pool does not have a lift and staff are not trained to use a lift and water wheelchair users would have to come in with their aide who can transfer them from their wheelchair into the water wheelchair and down the ramp.
"It used for therapeutic reasons," said Andreas.
"So people, once they go into the water, there is less stress on their bodies and it's just enjoyable to go in the water for everyone. It's accessible to anyone that needs it.
A water wheelchair was purchased because it was a part of the pool's focus of being accessible as possible to many demographics, she added.
"We do know we have people that can't use our stairs and need to have another accessible route into our water," said Andreas.
"We also had people, who we had to turn away before we had it, that came in, wanting a way in but they couldn't."
A lifeguard will go and get the water wheelchair out of the storage area for the person who requests it at the front desk.