Byam takes home provincial U18 Volleyball Player of the Year award
Posted on June 11, 2019 by 40 Mile Commentator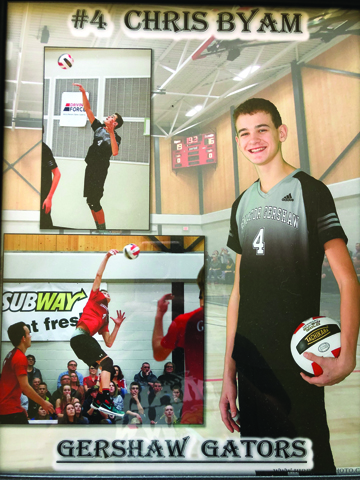 Chris Byam
By Justin Seward
Senator Gershaw Gator and Lethbridge Volleyball Club team member Chris Byam added to his accolades this year after receiving a message from Volleyball Alberta a couple of weeks ago that he was the province's player of the year at the under-18 age group.
Byam was on the all-star team after his club team took home provincial silver last month, but had no idea he was would be adding to his trophy collection.
"It wasn't until a week ago I got an email saying I was the top U18 player," said Byam. "It was really good just to get that award. I've worked hard and keep setting my achievements high."
The award caps off a successful year for Byam after he along with his Senator Gershaw senior volleyball team won 1A provincials.
The transition from high school volleyball into club was tough at first.
"It was hard because there was not much of a break," he said. "It was tough on the body just to keep going. But our coaches were really good, they helped and pushed me a lot to keep going."
Byam says his Lethbridge team was extremely competitive and there was no time to take a day off.
"It was a huge step in getting ready for university because I know that's how it's going to be once I get up to Calgary," said the future Mount Royal University Cougar, where he'll head this fall.
"Everybody is going to be wanting playing time and nobody is guaranteed any. Everybody is going to have to keep getting better."
Meanwhile, before heading to Calgary to begin is first year of physical literacy studies at Mount Royal, Byam will make another trip with the youth national team in July down to Florida.
"Definitely making sure you're making the best of the experience," he said of playing for the team for the second year in a row.
"Especially because there is less guys this year. Last year there (were) 22 players. This year there will only be 14 with us."
The smaller roster is because Team Canada is only sending one team instead of two from a year ago.
He will meet up with his teammates in Toronto on July 5 where the team will train for two weeks before flying to the Sunshine State for a week of training along with a few days of competition.
"The biggest thing is knowing everybody is good," said Byam.
"Even if you have one bad practice, you know everybody deserves that spot on the team. The biggest thing we learned is the mental side of the game because everyone can hit a volleyball or pass a volleyball."
Byam will receive his provincial award on June 22 at a banquet in Edmonton.