Local group looks to start regional humane society
Posted on June 11, 2019 by 40 Mile Commentator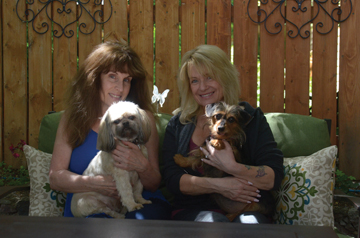 June 6, 2019 NEWS PHOTO MO CRANKER Sheri Pister and De Seaton hold Chet and Molly Thursday at Pister's house. The pair has teamed up with three others to create the Southern Alberta Humane Society. The organization is hosting it's first fundraising event online and will have a booth set up at Redcliff Days.
By Mo Cranker
Alberta Newspaper Group
De Seaton and Sheri Pister are in the early stages of creating another animal rescue organization for the region.
The pair, alongside three other board members, have called their organization the Southern Alberta Humane Society and are hoping to serve Medicine Hat and the areas surrounding it while operating out of Redcliff.
"It really came to light recently that we still have a problem with euthanasia in Medicine Hat," said Pister. "That's generally due to overcrowding – our response to that is to try and create something that will ease the number of pets going into the few organizations that there are now.
"We've got this going now and we're looking forward to growing this with the help of the community."
The decision to start a new rescue organization for the area came to Seaton and her colleagues after she was let go from the SPCA after making a number of allegations on how the organization ran and who was running it. She says southeast Albertans having more options is always a good thing.
"It's really not about replacing anyone," she said. "We're trying to give our community more options and we think we can do a good job with this.
"The community support so far has been amazing and we're thankful for everyone who has shown interest or helped us out so far."
With the organization likely running out of Redcliff, the women are hoping to work with the areas surrounding the Hat to help as many pets as possible.
"There has never been an organization that has put the areas around Medicine Hat first," said Pister. "It's always been about room and if they had room to help out Redcliff Bylaw or Cypress County Bylaw.
"If we can set up a foster system and eventually a shelter, we can lighten the load on some of the organizations in Medicine Hat."
Both women agreed that a big part of their new venture would be a strict no-kill policy at the organization and to have complete transparency.
The society is looking for people interested in fostering or volunteering with the group to reach out through its Facebook page.
The women have submitted paperwork to become a society and will later apply federally to become a charity.
The group's first fundraiser is running this month as an online Facebook auction. It can be found by searching Southern Alberta Humane Society Silent Auction. The organization will also have a booth set up during Redcliff Days.
The group does not have a website by can be found by searching Southern Alberta Humane Society on Facebook.