A 'Hart' of a champion
Posted on June 18, 2019 by 40 Mile Commentator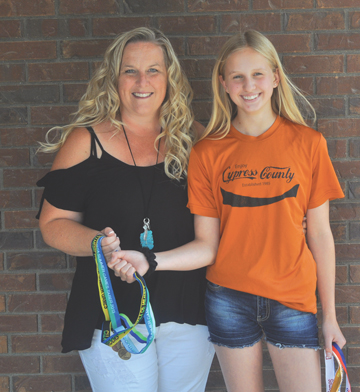 Commentator/Courier Photo by Justin Seward Heather and Kassidy Hart will be participating in the 50th annual Southern Alberta Summer Games in Pincher Creek in couple weeks time. For Kassidy, the games are extra special this year as she was chosen as Cypress County's Heart of a Champion where she will be the flag bearer at the opening ceremonies.
Justin Seward
Commentator/Courier
Cypress County's Kassidy Hart has been around the Southern Alberta Summer Games since she was a toddler as she watched several family members participate in the games.
Now the 13-year-old is in her eighth summer games as a multi-sport athlete and this year she will be carrying in Cypress County's flag at the opening ceremonies as she was chosen as the Heart of the Champion representative for the county at the games in Pincher Creek this July.
"My mom told me when we were driving," said Kassidy of the how she found out about the honour.
"It was something really nice to hear because I didn't know I would get recognized for that. I'm excited to do that. I haven't been in much parades but it sounds fun."
Hart participated in her first summer games back in 2011 in photography as she was not eligible until the following year to participate in athletics.
It was in that year following her first summer games that she got second in the five-kilometre run, which allowed her to gain more of interest in the event.
Initially, the Seven Persons School student began in 2012 with basketball, soccer track and field and running events but now solely her focus is the latter two sports.
"I like to do athletics a lot," she said on why she chooses more than one sport.
"Right now I'm in Panthers track and field. I normally practice for 1,500 (metre run), running long jump and discus. That's pretty much what I'm interested in right now."
She is the fourth generation participant at the games going back to her great grandpa Larry Laidlaw, grandma Maureen Laidlaw, mother Heather Hart, father Rob Hart and brothers Ryler, Chase and Levi.
The games have become a family affair every summer.
"I've been going since I was really little with my family just to watch," said Kassidy.
"I have three brothers, I've been watching everyone and I've been really wanting to compete and so when I had the chance to, I really wanted to. Really we all went into as many events as we could."
Kassidy says above all else, while the games have been fun, it is an exciting feeling to get back on the track every year.
"Just to be on the track and everything (and) ready to run, it's just fun and exciting," she said.
"I made multiple friends there. Normally after the race we say 'good job,' to each other and we get to know each other because we see them multiple years everytime I go."
Heather competes in the Masters category in track and field with friends made from previous years, which grew to 12 female competitors.
"I love sports," said Heather.
"It's one thing that my family started doing to be a part of your community and go and have fun in the summer. I think I enjoyed it so much as a kid and so when our kids came of age to start to go, we thought it would be a great family event to go and do together."
The summer games have shown her kids how to show sportsmanship.
"It's great because I don't think we teach our kids how to win or lose," she said.
Cypress County's SASG coordinator Meaghan Morter chose Kassidy for the award because it was recently that she met her mom at the Cities track and field meet where their story was told to her.
"Kassidy really stuck out because she goes during her birthday (July 6), which I think is kind of a bit different than a lot of people," said Morter.
"She'd rather go to the summer games and celebrate her birthday there then have a birthday party at home with friends. It's something really different then I had seen before and I thought was a perfect nomination."
Kassidy will look to add to her growing medal collection this year as she will be participating at midget level for the first time in the 1,500 metre and three kilometre runs, long jump, discus, javelin, shot put and photography. The 50th annual Southern Alberts Summer Games will take place from July 3-6 in Pincher Creek.