County looking into a new bulk water station by the Bow Island Airport
Posted on June 18, 2019 by 40 Mile Commentator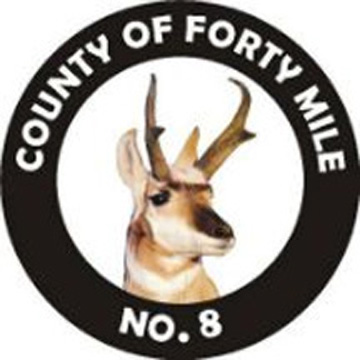 Justin Seward
Commentator/Courier
County of Forty Mile council voted in favour of getting an engineering study done for a new bulk water station by the Bow Island airport at their June 12 regular council meeting The county will talk to the Town of Bow Island about two parcels that are available.
The project stemmed after Water Tower location in Bow Island closed down permanently at the end of May due to deterioration of the one wall and piping issues. Water haulers for the time being will have to go to Burdett or Seven Persons.
Capital Power
The Whitla Wind Farm project 10-kilometres south of Bow Island is well underway. However, the county has received recent complaints on dust with it being so dry and windy. Capital Power has purchased another water truck to run along the road near the site to reduce the dust
Spitz Plant
County of Forty Mile Reeve Steve Wikkerink informed council at their June 12 meeting that the old Spitz Plant on Highway 879 has been sold to Ontario's G.S. Dunn Dry Mustard Millers. The company is the world largest dry mustard miller, distributing to over 50 countries across six continents. Wikkerink told council that they will be hiring between four to five employees and will hire more as operations expand. The plant had been up for sale since July 2018 when the Spitz Plant was closed up and operations were moved to the States by their head company PepsiCo.
Municipal Tax refund
The Christian Reform Church (Church Manse- $956. 18), Christian Community Church (Church Manse- $1,137. 40) and the Foremost Fish and Game (Land improvements $1,927.80) were all the municipal portion of the 2019 property tax amounts refunded to those non-profit organizations.
M.S.I-capital project- radios
Council approved an additional amount of $30,000 for tower upgrades to operate trunking repeaters and to connect four transmitters and receivers to the antennas as well as battery back up to provide 48 hours of service if power is interrupted for radios.
It was on March 13, 2019 a request was submitted to council to amend the grant amount for MSI Cap-8119 for an increase of $62,000 for additional radios which was granted and the application was sent to Municipal Affairs.
Repeal By-Law 12/2005
Council approved to repeal Bylaw 12/2005 which pertained to a $10 camping fee at the Burdett campground as the bylaw was obsolete. A resolution was approved to increase the fee to $25 per night.