Future Foremost indoor riding arena needs fundraising to start building process
Posted on June 18, 2019 by 40 Mile Commentator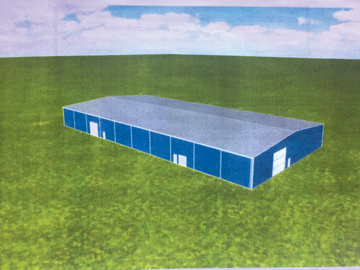 Photo submitted by Steven Hofer A sketch of the proposed Foremost indoor riding arena.
Justin Seward
Commentator/Courier
Local 4-H clubs and equestrian enthusiasts may have to wait four more years, but the future Foremost area indoor riding arena/ events facility made a step in the right direction with a recent announcement.
Jim Haugan, a Foremost Ag Society board member and owner of Haugan Farms, which is just east of Foremost on Highway 61, came forward to the board meeting earlier this year to inform the four other board members involved with the project that a piece of their land will be donated to the project.
"They said they'd be willing to donate the land to build this arena if we can make this happen," said
Steven Hofer, who is also a member of the project committee.
"But it really got nailed down this winter when one of the board members had a meeting with the Haugan family and they came to our Ag Society meeting and announced that they were willing help out with that. That's a huge step for us."
Discussions on the regional outdoor arena increased over the last year.
"Everybody is so busy in the summer time with just the farming part and with their lives," said Hofer.
"What we would like to do is in the winter time people have more time, (and) kids have access to get better at something and to grow. Then we have had people in the community that have had real success in the rodeo industry and willing to donate their time to teach younger people to this."
Hofer says the building will have an impact economically.
"You've got people coming to your community … People come there for the weekend or two days, (they) will be using our fuel pumps, our grocery stores, eating at our restaurants. It brings money to our community."
"Why Foremost? It's central in the County of Forty Mile. There's no indoor riding arena (in) southern Alberta from Milk River east."
Hofer says the focus of this facility is so anyone can use it in the community including local schools using it for physical education, 4-H clubs, bull and cattle sales, farm safety programs, and boy scouts.
"It has to be set up so it can be used for almost anything," said Hofer.
"It's going to be a building that is 125 feet wide by 225 feet long and it's going to be a steel structure. I'm not sure how tall the building is going to be yet. We want it high enough so you can drive a combine through the infrastructure."
The project is at a phase where the board needs to raise $200,000 by March 2020 in order to go after a matching government grant to be able to continue on with the next steps towards building the $1.5 million arena.
More grants will be looked into once that process is complete to reach the total.
"That's what we're focusing on right now is that goal," said Hofer.
He hopes other local ag societies in Manyberries and Grain Hall will come on board and recognize the impact.
"We need them to be a part of this once we get this building up," said Hofer.
People interested in the donating can do so through the Foremost Ag Society.
Donations will be documented as to who puts money towards the riding arena and if the project does not get off the ground, then people will get their money back.
The 72nd annual Foremost rodeo is this weekend and there will a booth set up for more information on the indoor riding arena.
Additionally, the sponsorship from the junior build riding event will go towards the project as well.
The hope is to have the indoor riding arena built by 2023.