Local Bow Island businesses networked over breakfast
Posted on June 18, 2019 by 40 Mile Commentator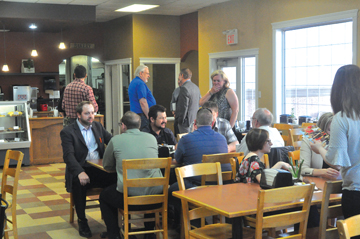 Commentator/Courier Photo by Justin Seward Local businesses gathered for a Networking Breakfast at the Rolling Pin Bakery on June 12.
By Justin Seward
Commentator/Courier
A handful of Bow Island business owners mingled over a coffee and muffin at the Rolling Pin Bakery during the Bow Island/Burdett Chamber of Commerce's "Networking Breakfast" on June 12.
Denise Fode, director on the Chamber of Commerce board, says the purpose of the hour long session was to add some value to being a chamber member for local and making connection between the businesses in Bow Island.
"I think it's really important right now because these different little businesses are popping up and you don't know the face behind the business and it's always good to meet the face behind a business name," said Fode.
"To me business is about relationships. It's important to build those relationships."
The networking event had been in the works for a year and it was three months ago that the date was confirmed.
"Apparently former members that have been on the board longer than me said they've tried it and said it wasn't successful. But we said 'well we should try it again,' and why shouldn't we give it another shot?," said Fode.
"There's always new businesses, new people. Bernice (former chamber's president DeLeenheer) went over and above making sure that the businesses were personally handed invitations. We tried to get the word out through technology, e-mail,social media as much we could."
The hope was to have 20 people attend and 17 people showed up.
"Even if there was four people here, I'd call it a success because we tried it. Even if you made one contact from here it's good," she said.
The chamber would like to make the event more consistent but are undecided as to how often the sessions will happen.