Bow Island students make history at track and field provincials
Posted on June 25, 2019 by 40 Mile Commentator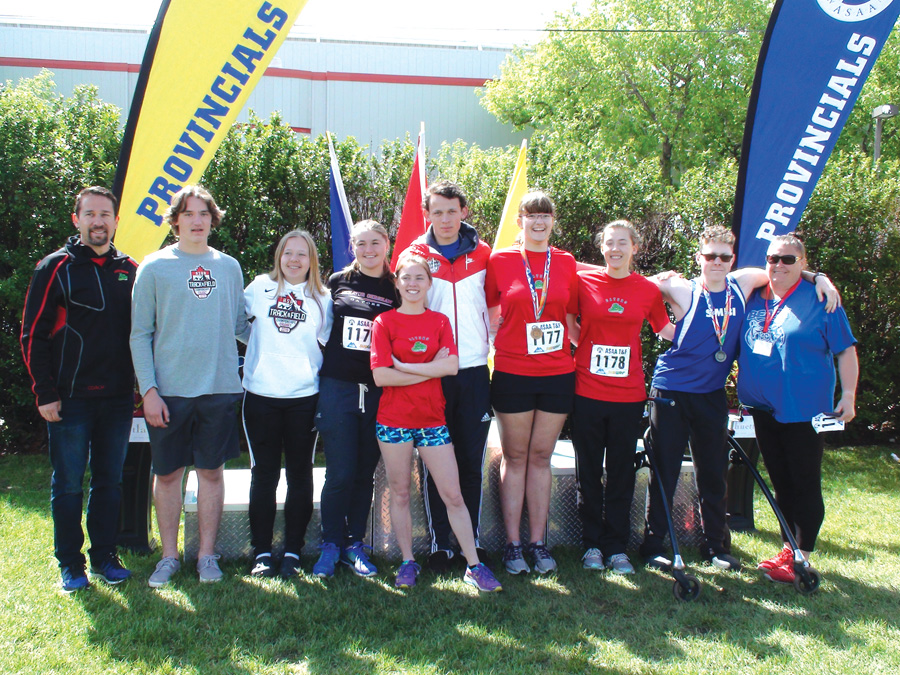 Written by Laura Reusser, throwing coach
On June 6-7 in Calgary, Bow Island had nine young athletic ambassadors, who had earned the right to compete in the Alberta high school provincial track meet. There were 1, 032 competitors in total. There are six divisions for students with disabilities. Ambulatory boys and girls, intellectual boys and girls and wheelchair boys and girls. These categories only have a few events in each. These, as they gain numbers will have more events added. Now they have shot put, 100 metre dash and the 200 metre dash.
Then there is the junior girls and boys. These are typically Grade 10 students and Grade 11s are intermediate and seniors are Grade 12. There was close to 200 students in each of these categories. These categories have all the events for running, jumping and throwing.
These athletes had to qualify to earn the right to compete at this level. We had a central district meet in Taber. Here the top two athletes from each event went on to compete at Zones. Our zone of southern Alberta had 16-18 of our best athletes competing in each event. Only the top two from each event earns the honour to compete against the best in the province.
Bow Island was represented by Jessica Andreas in intermediate girls shot put, placing sixth overall. Karli Haugan qualified in two events, senior girls shot put and discus. She placed 15th in shot put then brought home bronze in the discus. Nickola Haugan also qualified for two events, senior girl's discus and javelin. She placed seventh in discus and fourth in javelin. Trista Mitchell ran the intermediate girls 100 meter dash and placed 12th overall. Kayla Philips placed sixth in junior girl's javelin. Garren Oosterhuis ran the senior boys 100 meter hurdles, jumping 36" (91cm) hurdles, to place ninth overall and just missing out on the final heat by one place. He also competed on the 4 X 100 relay team that placed ninth.
Aidan Philips represented us in senior boy's javelin, placing eigth in his field. Lliam Reusser threw in the open boys seated shot put. This event is for disabled students. They are strapped to a seat then throw the shot put. Lliam brought home the silver medal for Bow Island. Then last but not least is Dacey Timmons, he qualified in junior boys shot put. He placed 13th in his field.
These nine individuals did us proud. Not only did they all place very respectably in each of their events but they did so with dignity and respect toward their competition. I have coached many students over the last 27 years and we get focused on doing the best you can do, on the throw, the time or the distance jumped but what always makes me the most proud is when you see students excel at being great ambassadors. At representing us not just as our athletes but as great human beings. This meet was no exception.
We saw athletes shaking the winner's hand and congratulating them. We saw athletes running hurdles in the rain, slush and frigid temperatures with a smile on their face and giving it their all to break their personal record. We saw athletes who were not throwing their best not get frustrated but they dug deep and listened with a great attitude to the coach to turn around and throw two meters further than their personal record. We saw athletes throwing in one to two inches of water as they tried to spin to throw their discus while it rained, and it was only five degrees. We saw an athlete after their completion in the cold, wet mud take time to go and shake the volunteers hands, that were retrieving their shot puts and cleaning them off, and say, "Thank you, I really appreciated you returning the shot puts!" Not one bad attitude and encouraged and cheered each other even though they were from different schools.
Eight of these students brought home the provincial 1 A banner for Senator Gershaw school for the first time in their history.
I am excited to see what next year brings as five of these students are Grade 12 graduates. How many younger students will pick up the torch and run, jump or throw with it? This new track and field facility for the community hopefully will have more than nine students going to represent this talent rich town and more Ambassadors will be born. They made Bow Island proud.