New Dunmore fire station locations presented to county council
Posted on June 25, 2019 by 40 Mile Commentator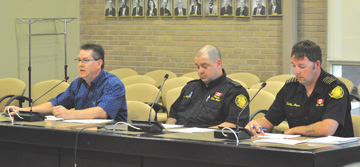 Cypress County's director of municipal services Jeffrey Dowling, deputy fire chief John McBain and fire chief Kelly Meyer spoke to council about the potential new locations of a new Dunmore fire station on June 18.
Cypress County councilors were enlightened by the county's fire chief Kelly Meyer, deputy fire chief John McBain and director of municipal services Jeffrey Dowling on the plan for a new Dunmore Fire Station to better service Dunmore, Desert Blume and Veinerville at its June 18 meeting.
The new fire station would become a reality if the county can negotiate a new fire agreement with the City of Medicine Hat, while according to the Fire Master Plan which was compiled by TSI in 2016, it was recommended that a study be conducted to determine the best location.
The positive and negatives were broken down for council at the existing fire station (old Outlaws Collision building that was purchased in 2017 by the county) on Bullshead Road in Dunmore, the potential new locations at either Second or Seventh Avenue locations in the hamlet and a Dunmore/Desert Blume rural area station.
"Why this is important is because choosing a permanent location is obviously going to help administration and council make budget decisions. Whether that is upgrading or making improvements to the existing location or it's looking at an entirely new location," said Dowling.
The existing location is a fairly good building and is already county owned, while it provides good access for on call members from the city, Highway 1, 41 and Township Road 120 to respond to incidents.
The building is also close to the county office on Second Avenue and the separation from established residence makes the current site suitable for training fire members (live burns) without little concern for nuisance mitigation and compatibility with surrounding uses.
Negatives includes requiring more office space to accommodate future staff, the preference is to increase the number of bay doors on the front side of the building and the response time is longer to Desert Blume and Veinerville areas.
Coun. Michelle McKenzie asked Meyer if the current space is big enough to house a training facility.
"Myself and the admin assistant, we are in the back sharing an office," responded Meyer.
"So privacy, phone call and talking to other fire chiefs, it does get a little overwhelming. But having some more offices would be ideal and would make it good. As for the trucks, they're pretty tight in there right now."
Coun. Dustin Vossler says he has been to many training facilities around the province that are primarily located in industrial area so hamlets and towns.
"Currently where we're located right now we have an ideal place for a training facility," said Vossler.
"There's nothing that is going to be built behind it . There's nothing industrial in front of it."
The Second Avenue location is across the street from the county office and has tremendous upside as the site was purchased by Cypress County for a joint use for administration needs and a fire station as well as being serviceable with utilities and can be built without retrofitting a current building and could see a possible return of $1.2 million from the sale of the existing building to help off set the costs of a new building.
However, if this was the chosen location it may prove difficult to ensure both administrative and fire service needs can be met with a joint use structure, less property space for training and expansion and response time is greater to Desert Blume and Veinerville.
The Seventh Avenue location would be a part of the Dunmore Community Park and is already classified as Public and Semi-public Service District under the county's land-use bylaw, it would have the same return as the Second Avenue location, easy access to the major nearby highways and more centrally located for Desert Blume, Dunmore and Veinerville.
Highlighted downfalls would include limited space for training and expansion and the site may only be suitable for housing fire equipment.
The rural station would allow for the building to suit the needs without retrofitting and would increase response time to Desert Blume to name a few. There are also gas and natural gas in the area .
A few negative would be that the site has to be purchased, getting an estimated property value difference between Dunmore and Desert Blume, water services are unknown and there are unfamiliarity's in the surrounding area for training.
"One thing that would be wise to consider in this as well is the city is expanding into the Coulee Ridge Estates area which is on the south side of the coulees. They're going to have to build it in to their fire services policy to service that area," said Coun. Robin Kurpjuweit.
"They're going to be putting in a structure to be able to service that area. I think locations of fire halls need to be about response time. If we're talking about having a good response time with a volunteer department in Desert Blume, but we don't have volunteers. It probably wouldn't be wise … (for) planning and investment."
Council approved the location plan for information and will sit on the options in the summer before a decision will come back to them in the fall.