Whitla Wind farm material started moving to site this week
Posted on June 25, 2019 by 40 Mile Commentator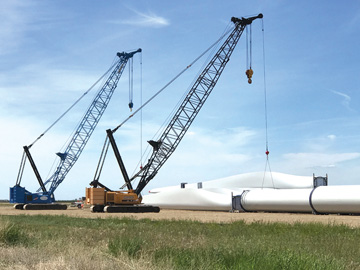 Photo Submitted by Capital Power The Whitla Wind Farm is two thirds complete.
Justin Seward
Commentator/Courier
Materials for the $325-million Whitla Wind Farm, 10-Kilometres south of Bow Island, were starting to be transferred from the 40 Mile Rail yard in Foremost to site this week.
"(This) week we'll be starting to move tower and blade components to some of the turbines we've actually poured," said Jerry Bellikka, Capital Power's director of government relations for the project.
"We've been pouring foundations. Then once the foundation is solid and cured … we can slam the ground all around it and we can start moving equipment on to that particular site."
Since the project has amped up earlier this spring, there have been 50 truck loads of cement that have been transported to foundations on each site, which has caused busy traffic on local roads, added Bellikka.
Bellikka says this week will be the start of the transportationof 12 truck loads a day.
Equipment components will include an Acell-big white unit at the top of the tower-, the hub which where the blades attach on to, five tower sections and a gear box for each windmill site.
"The trucks will pick them up at the lay down yard in Foremost," said Bellikka.
"Then go north on Highway 879 and then east on Township Road 90. Some of these loads are 220 feet long, so they're going to be going really slowly especially to be able to turn at some of the intersections."
Bellikka reminds the public that the process will be long, slow and will require patience from the public.
"We'll do our best to let people know when loads are moving near where they drive" he said.
There will be one truck load at a time moving out of the rail yard a foundation which then will be put up.
The transportation of materials will go from June 25 and will be ongoing for several weeks.