40 Mile names their SASG Heart of a Champion
Posted on July 2, 2019 by 40 Mile Commentator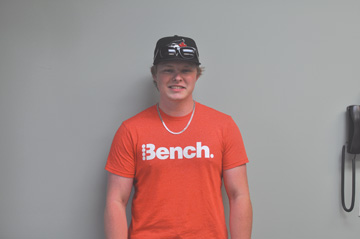 Commentator/Courier Photo by Justin Seward Justin Roszell will be carrying in the county flag at this year's summer games as a Heart of a Champion.
By Justin Seward
Commentator/Courier
Justin Roszell has been named the inaugural Heart of a Champion honouree for the County of Forty Mile region at the 2019 Southern Alberta Summer Games' opening ceremony on July 3 where he will be the county's flag bearer.
"It's just kind of an honour for me because I get to lead all these young athletes who I either played (ball) hockey with or doing the Summer Fun Program with in Foremost," said Rozsell, who was nominated by a co-worker at FCSS.
While he will not be participating in this year's games, he said being a participant is a "platform to stand on," because you get to go and compete against people that you had not seen before on the playing field.
"It's exciting because you'll make friends from different teams," said Roszell.
The Lethbridge native played ball hockey in his hometown where they formed a team to go to the Summer Games.
He was a part of the ball hockey teams at the 2011 games in Medicine Hat and again in Taber in 2013.
"Our coach had asked a bunch of us what we thought about the idea about competing at the summer games for ball hockey," he said.
"At first it wasn't a huge hit on our team because they didn't want to travel to Medicine Hat. They let it sink in over night. He got a bunch of responses and that's how we formed our team."
He tried soccer and baseball at first for a cardio sport in the off-season when he was not on ice, but it was ball hockey he took a liking to the most.
"I enjoy hockey so much, I thought well I'll give ball hockey a try, it can't be that much different," he said.
"It's really not. It's a lot more running."
Roszell is staying with his grandparents in Foremost over the summer working as a FCSS summer events coordinator; a reason why he was nominated with his leadership skills.
"I think it was just we were talking with the individual who nominated him and his leadership and mentorship really stood out," said County of Forty Mile's SASG coordinator Susie Heinrichs.
"He comes from Lethbridge and he comes to a small town, things are strange, but he just jumped right in and got involved with community stuff and he's just been a mentor to all the younger athletes in his community. Nothing but high praise from everyone that I talk to."
Heinrichs will make her first appearance in the games in bowling.
The Southern Alberta Summer Games are from July 3-6 in Pincher Creek.
The county will have 59 participants this year.