New physicians begin their local tenures in the Family Medicine Rural program
Posted on July 2, 2019 by 40 Mile Commentator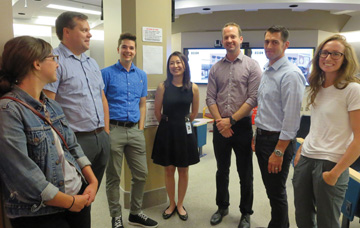 Seven physicians who recently completed their university education arrived in Medicine Hat on June 26 to start their two-year residency program under the University of Calgary's Family Medicine Rural program. From left to right: Dr. Colleen Jackson, Dr. Dana Nielsen, Dr. Mike Mitchell, Dr. Yunan Liu, Dr. Jim Soetaert, Dr. Wade Walters and Dr. Zoe Friesen.
By Gillian Slade
Alberta Newspaper Group
Seven newly minted physicians are in Medicine Hat to start their two-year residency program under the Family Medicine Rural program.
Dr. Lena Derie-Gillespie, site director, says doing a residency in a rural area exposes physicians to a range of skills and challenges.
Derie-Gillespie, who is originally from Oyen and is also a medical officer of health for Alberta Health Services, says you learn a unique set of skills in the program. While technology has enhanced medical services for those in rural areas, smaller health centres may not have equipment such as a CT scan machine, creating other challenges for physicians.
The residents are exposed to a wide range of medical experiences that will help them determine how they would like to specialize and where they would like to practise, she said.
The residents have been assigned to work one day a week with Medicine Hat family physicians for a period of time. Derie-Gillespie says this provides a perspective of the connections family doctors make with patients for the long term.
"We want to prepare them as broadly as we can," said Derie-Gillespie.
Resident Dr. Colleen Jackson is no stranger to southern Alberta but says she wanted to participate in the rural program because she enjoys the variety it offers.
Dr. Jim Soetaert, from west of Edmonton, says the "joy" of the program is that variety. He has not decided yet where he would ultimately like to practise.
Dr. Dana Nielsen, will be assigned to Bow Island for a period during his residency. He grew up in Lethbridge and has been impressed with the great medical care offered in Bow Island.
There is no financial benefit for the residents in the rural program except if they had government loans for their medical education, said Jackson.
Statistics show that physicians who do their residency in a rural setting will more than likely end up practising there.
A spokesperson for AHS said 13 of the 14 residents in the 2016/18 program stayed in rural Alberta afterward. Of the 2017/19 program 10 out of 14 residents stayed, and the balance moved to rural areas in other provinces.
"If you want to keep them in a rural setting research shows they need to be exposed to that," said Dr. Dr. Kristine Woodley, local physician who is a former resident of the program.