Schuler School playground now back up and running
Posted on July 2, 2019 by 40 Mile Commentator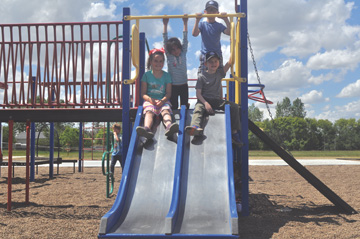 Cassidy Campbell, Kinley Cavan, Jase Beck and Kalder Perry had the opportunity to play on the revived Schuler School playground on June 26.
By Justin Seward
Commentator/Courier
After four years of being stored in a nearby yard , Schuler School students saw their playground be built back up couple of weeks ago just in time for a Friday afternoon playtime on June 21.
"My goal was try and get it so the kids had it for the last week of school," said Danielle McNeill, the spearhead of the project.
"In 2003, I was saying that they originally had their grand opening June 26. Here we are June 26 is today and we were done a week ago. It just makes me happy that they got to utilize it before summer.
"It was really necessary. These poor staff members trying to supervise recess into all of those outside events with nothing. I couldn't imagine what it was like. It's just nice to have the kids in one area."
The equipment was stored away for four years until there was a way of re-installing it.
Phase 1 of the project was the re-erection of the existing equipment that was built in 2003 and was built to what the students had at the old school and if there was extra then there would have been add ons to give the kids more to play on.
"Phase 1 was supposed to just be putting back up what they had," she said.
"Phase 2 is more specific items. So geared towards a lot of the older kids… so the sitting area with the gazebo and the large, spinning structure is more geared towards the older kids, which we're hoping then they'll have their side of the playground."
Construction began on the week of June 17,where there was excavating of a hole with 12 inches of backfill for safety netting gravel.
There were consistently between 15 to 20 volunteers for three days shoveling, spreading rocks and putting up the structure.
"Volunteers brought their equipment into to do all that. A bobcat came into smooth it all out. We lucked out with some volunteers there," she said.
"We had to get all the welding put into place. They were prefabricating that off-site and then after that we had to start placing things and rebuilding what's existing."
Posts had to be replaced because they were cemented in the original structure as well as picnic table and garbage bin legs being replaced as well.
"(What) we really wanted to focus on is community support that got this up and running," said school principal Kerry Watson.
"All the hard work over these past few months has been worth it. The staff really appreciates it."
Watson says there was not a big challenge to find things to do without a playground.
"They were just encouraged to play out there," she said.
"We have a tennis court so they could play hockey, they could throw balls around, (and) basketball. I think they missed the playground too. We know playgrounds are really geared more for younger kids. We survived."
Phase 1 of the Schuler School playground project was funded mainly by larger donors including Drowning Ford Grazing Association, money came in from Richardson Pioneer as well as donations from families and memorial donations.
Phase 2 will start in the fall if the CFSEA grant is obtained and more donations come in. Features will include an Apollo which is a large spinning structure and geared towards the older kids as well the gazebo which can utilized for community events as well as being an outdoor classroom.