Cypress County athletes have a successful Summer Games
Posted on July 9, 2019 by 40 Mile Commentator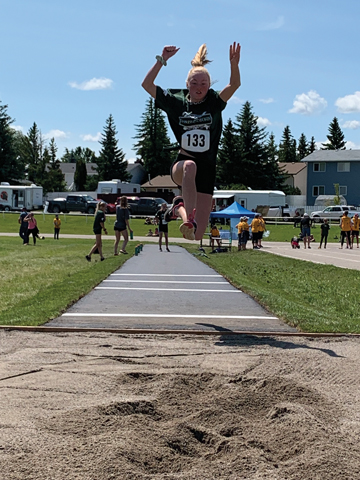 Southern Alberta Summer Games Facebook photo Raynah Gibney participating in the midget girls long jump.
Submitted by Meaghan Morter
Cypress County's Summer Games Coordinator
Overall, everyone from Cypress did amazing at the Southern Alberta Summer Game in Pincher Creek last week. Our final number of participants was 92, with 87 athletes and five coaches. We came home with 87 medals (31 gold, 30 silver, 26 bronze), which was good enough for sixth place and 1342.5 total points. Our participant numbers were down from last year, but you never would've guessed just by looking at our results. Our attitude was incredible the whole time and everyone always had a smile on their face and was having so much fun. Other regional directors were commenting on how positive and energetic the Cypress County athletes, coaches, and parents were which was amazing for me to hear – it's always nice to hear that our positivity was recognized and praised by others around us. As a whole, I couldn't have asked for a better experience and I completely owe that to our parents, coaches and most importantly, our athletes.