Dunmore housing development 'slowly' building up
Posted on July 9, 2019 by 40 Mile Commentator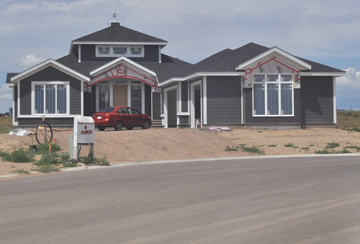 Jasper Homes' show home for the Parade of Homes this fall.
By Justin Seward
Commentator/Courier
A Dunmore residential development has understandably been slow with the state of Alberta's economy, however, it is expected that Jasper Homes will dig its first family home by early fall.
The Jasper Homes development was approved by Cypress County in 2016 and now is selling off 13 residential lots in the hamlet that are mostly a walk out basement style and will be on a half an acre each.
The home building development company's owner John Hiebert says there are potential customers as there could be another couple lots sold here in the near future.
"But in all reality because of economics in Alberta, the lot sales are slow," said Hiebert.
"We've pre-sold one (lot) and because of delays in the development, we has to release the money back to the couple. We did that and since then sales have been slow."
The delay in the development experienced was because of the early winter set in a couple years ago.
With the province still in an economic decline, Hiebert feels he has been fortunate with his business.
"I'm one of the lucky ones," said Hiebert.
"With my other sister companies- Hiebert Cabinets and Jade Homes – we're hardly slowing down. We're still building lots."
Hiebert hopes with the slow sales that if they can build a couple of spec homes that it will catch people's eyes and let them know how good of an area it is to live in.
"Cypress County is a great county to work with for developing residential property," said Hiebert.
"Dunmore seemed like a place that was ready to grow as a satellite community of Medicine Hat. Land prices are basically you could get three times as big of lot in Dunmore as you would Medicine Hat and save money. It just makes economical sense and it's only a quick drive back to Medicine Hat."
The only home being built right now is the show home that will be in the Parade of Homes in September.
The Parade of Homes is for a group of builders who construct a creative showhome and then the homes are open at the beginning of September for a month for tours.
"It's just great to see and support local builders," said Hiebert.
"The Parade of Homes home has come along fantastic. It's a custom design by Jasper Homes. It's actually been designed by the drafts person that's on staff at Jasper Homes. It's a one of a kind home."
The home was allowed to be built because Cypress County council had approved a variance, confirmed by the county's director of municipal services Jeffrey Dowling.
Lot prices start at $160,000 and Jasper Homes is selling them for the appraised value that was quoted for the properties a couple of years ago, Hiebert added.
Hiebert anticipates to break ground on a couple of homes by early fall and the lots to sell out within three years.
Dowling says Jasper Homes will have to take care of some infrastructure items before the county can come in and take over the road paving , the water distribution lines and storm water management pond.
"There's just a few minor infrastructure bits of work that still need to be completed from what we understand through Jasper Homes," said Dowling.
"We're expecting that a construction completion certificate would be requested from them. The county would go out and do an inspection and if the inspection passes on the infrastructure that the county would take over. Then we would issue the construction completion certificate and that would allow Jasper Homes to go ahead and allow their lot owners to purchase a development permit."
Irvine subdivision
Dowling said there will be no immediate development on a proposed new Irvine subdivision.
Furthermore, county council did recognize that Irvine was a hamlet they wanted to promote through their strategic planning sessions, he added
"One of the things that council did approve through a bylaw last year was the adoption of the Irvine Area Structure Plan," said Dowling.
"It does identify the 39- lots that are on the west side of Irvine (that) are still for residential purposes. When there is need or council feels it's appropriate, then I guess they'll direct administration to start proceeding with getting those sites upgraded in terms of infrastructure and getting the development underway."
The infrastructure and utility lines has not been upgraded since the early 1980s.