Friday Market is back for another year with a lot of shopping varieties
Posted on July 9, 2019 by 40 Mile Commentator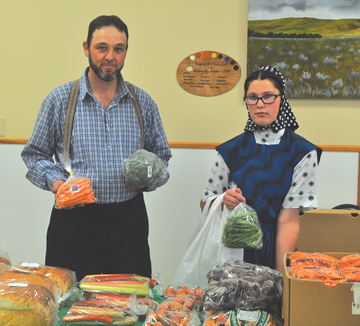 Joe and Melanie Waldner of the Shamrock Colony brought an assortment of fresh vegetables from the colony to the market.
By Justin Seward
Commentator/Courier
The annual Friday Market at the Golden Age Centre is back for another summer after vendors officially open their booths for the first market on July 5.
"We're really pleased with turnout," said Lisa Braat, entertainment committee  member for the Golden Age Centre.
"Especially because the Wednesday market–Market in the Park- -started up and they're really advertising. We still maintain if it's hot or cold, you're always inside. If anything it has grown, it hasn't gotten smaller."
Locals can shop at booths that range from fresh vegetables from the nearby colonies to baking and wood carving products as well as fresh eggs to name a few that have been staples over the years.
"We have a new one with the clothing and the dolls," said Braat.
"It changes some but most of the booths are the same. The woodworking is the same, the lady with the paintings, Thelma ,she comes every Friday. The young gal with eggs, she's been coming several years and usually her sister comes with baking. There's a young fella that comes every year with his produce out of his garden that he grows. It's the United Church minister's son.
"Next week, there is a couple that comes out of Lethbridge and they will sell wonton, spring rolls and cookies and we're looking forward that one, (it's) a new one again."
The Golden Age Centre also gives out books by donation for people to read, she added.
Braat says the Friday Market is important because people like to come for coffee and to socialize.
"That's why a lot of them come, it's their Friday afternoon outing," said Braat.
"That's been good. They don't have to go to the city for this. They can just stay locally and get their fresh produce. As you can tell, it's very busy where the Hutterites sell all their produce."
Friday Market will run every Friday in the summer until September from 2 p.m.- 4:30 p.m. at the Golden Age Centre.
A draw is made every week for a basket of items donated from the vendors too.