Medicine Hat Exhibition and Stampede see some changes for the 2019 edition
Posted on July 9, 2019 by 40 Mile Commentator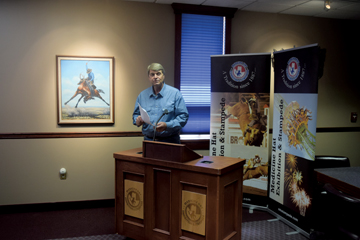 NEWS PHOTO JEREMY APPEL Jim MacArthur, general manager of the Medicine Hat Exhibition & Stampede, announced Tuesday some changes to the festivities this year.
By Jeremy Appel
Alberta Newspaper Group
Regular Stampede attendees may notice a few changes and milestones this year, event organizers announced Tuesday.
Since the Kinplex Complex is under renovation this year, events that were held there in previous years will be re-located, Medicine Hat Exhibition & Stampede general manager Jim MacArthur says.
The Country in the City exhibit will be moved to the Cypress Centre Pavilion, so it will be one of the first things attendees see when they enter.
Commercial exhibits will be re-located to Higdon Hall, which is typically the location of the beer garden. As a result, the expanded beer garden will be entirely outside this year.
"I really want to credit our volunteers for taking the change in stride and digging in, and coming up with some imaginative ideas," said MacArthur.
"That whole approach will help us with our theme, which is the 'Spotlight on Agriculture,' so people who come through that gate will see 'Country in the City,' which has a lot to do with agriculture."
This year's theme is important because Medicine Hat has deep agricultural roots, MacArthur added.
"Over the generations, the role of fairs and exhibitions has changed. Fairs were often the place where people in the agricultural industry actually came for information. That's changed over time, but I think really now our role is more of an advocate for agriculture," he said.
To that effect, Mark and Nichole Neubauer of Neubauer Farms will be this year's special guests of the Stampede.
"They're a great example of advocates for agriculture," MacArthur said, pointing toward their Growing Minds program, which teaches children about the importance of farming and serves about 3,000 kids annually.
Nichole said it's humbling that her family was selected as agricultural ambassadors.
"Our family is still in a little bit of a state of disbelief to be given this honour and to be given the opportunity to represent agriculture in our community," she said.
"We get to do what we love every single day. We get to get up and see the joy of life through the eyes of a farmer."
This year will be the 40th consecutive Stampede rodeo announced by Dave Paulsen, a milestone MacArthur said he's quite excited about.
"It's really a great story because Dave was kind of thrust into it – it was the first rodeo he ever announced. He's done a fantastic job ever since and is an amazing individual," said MacArthur.
"The rodeo's our centrepiece and Dave has been a great spokesperson for us."