*UPDATED* Redcliff RCMP charge hit-and-run suspect
Posted on July 9, 2019 by 40 Mile Commentator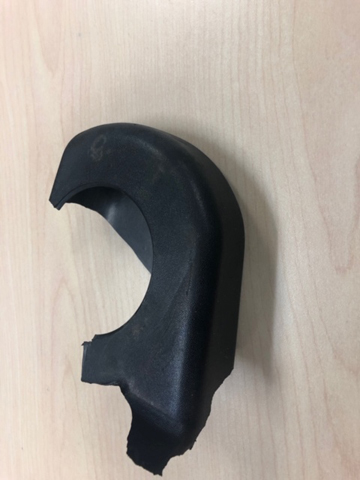 Redcliff RCMP Photo- A piece of the vehicle that fell of in the hit-and-run on Monday night.
Alberta Newspaper Group
Redcliff RCMP released the name of the hit-and-run suspect on July 18. Charges have now been laid in the July 8  hit-and- run of a cyclist on Highway 1 near Medicine Hat. Thirty-four year old Daniel Leger of Medicine Hat has been charged under Section 320.16(2) of the Criminal Code for failing to stop after an accident which resulted in bodily harm. This charge carries with it the potential for a fine of up to $1000, imprisonment up to 14 years, or both.  Leger has been released for court in Medicine Hat on Aug. 7, 2019.
On July 15, Redcliff RCMP confirmed an arrest of a male in relation to the hit-and-run that involved a cyclist just east of Medicine Hat on the Trans Canada Highway on the night of July 8.
A cyclist is in "life-threatening" condition after a hit-and-run on the Trans Canada Highway just east of Medicine Hat.
The westbound male cyclist was hit by a vehicle around 9 p.m. on July 8, according to an RCMP news release.
He was left at the side of the road until a motorist found him and called the police.
The victim — who police confirmed was wearing a helmet — was rushed to the Medicine Hat Regional Hospital before being airlifted to Calgary due to the extent of his injuries.
Police don't yet have any leads as to the identity of the driver who hit the cyclist, but have provided a photo of what could potentially be debris from their vehicle.
"We've got too many questions we want answered and the public would be our best help," said Redcliff RCMP Staff-Sgt. Sean Maxwell.
Anyone with information about the incident is asked to call Redcliff RCMP at 403-548-2288 or CrimeStoppers at 1-800-222-TIPS (8477).