Fourteen-year-old AMAC swimmer Delrae Vetter earns trip to Olympic Trials
Posted on July 16, 2019 by 40 Mile Commentator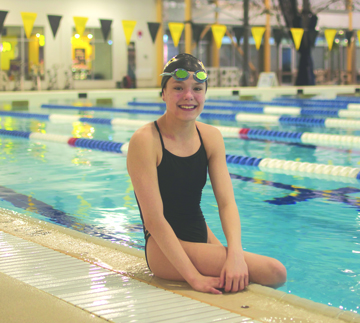 Commentator/Courier File Photo AMAC swimmer Delrae Vetter
By Ryan McCracken
Alberta Newspaper Group
Delrae Vetter has always dreamed of representing her country in the pool at the Olympics. On Thursday, that dream inched a little closer to her grasp.
The 14-year-old Alberta Marlin Aquatic Club swimmer punched her ticket to Olympic Trials next April in Toronto after shaving nearly 13 seconds off her personal best time in the 1,500-metre freestyle at the Alberta Summer Championships in Calgary last week.
"Ever since I started that's been the highest thing, but I never actually thought I would ever make it there," said Vetter, who swam the 1,500 in 18:05.78. "It means a lot because there are a lot of kids who have dreamed about going there. So to finally say that, at 14, I've made it to the trials where there are some kids who are like 20 and haven't made it … It really boosts up my confidence a lot."
Vetter finished her weekend with a silver medal in the 1,500 freestyle and bronzes in the 100 and 400-metre freestyle while cracking the final in all seven of her events. Vetter added she's only swam the 1,500 twice in competition this season, so it took her by surprise when she found out it was the race that earned her a spot at Olympic Trials.
"There are some girls who swim it every single competition and just got their time, so for me to swim it twice and be able to get it was pretty impressive," she said. "It's not really one of my focus races."
AMAC head coach Jordan Harper says there is an age group geared towards giving younger swimmers like Vetter a chance to experience Olympic Trials, though it's been a few years since the club has sent a swimmer to the event. At 14, Vetter is still on the young side of the age group, but Harper says she's still only three seconds shy of the open qualifying time.
"(Olympic Trials) is going to be a pretty big eye-opening experience. We race a lot in-province and we race a lot of girls that are our age, our skill, our capability to a higher end. And we're very competitive in that, which is good, but when you go there you see world-class swimming."
Vetter says she doesn't anticipate breaking any records at the trials, but she's looking forward to soaking in the experience and working to continue improving her times on one of the country's highest stages.
"I'm not expecting a lot out of it," she said. "Just better times and just kind of moving up spots within my age group."
Harper added Vetter brings an unrivaled combination of passion and positivity to the pool that sets her apart from the pack and makes her a joy to work with.
"She's just a little bit goofier," he said. "She's obviously very focused, works really hard and loves to be in the water, but when we're outside of the water it's just about trying to relax mentally and she's just a good teammate to have. She keeps things nice and loose for everyone involved."
Vetter will continue her season at the Canadian Junior Championships in Calgary, July 24-29, where she will compete in a grocery list of events.
"I have the 100, 200, 400, 800, 1,500 freestyle, the 200 and 400 (individual medley) and then the open water," she said, adding she'll be balancing rest and technical fine-tuning in the days leading up to the meet. "Definitely lots of sleep and making sure my technique is good, not only on my stroke, but wall work just to make sure that when I go there I'm 100 per cent ready to swim with all the girls."
It will be Vetter's second straight trip to nationals, but this year she'll be joined by 13-year-old teammate Kristin Hollingworth – who earned her berth over the weekend with a 200-metre freestyle time of 2:14.63.
"It's really great. Not many people go at my age so it's awesome," said Hollingworth. "I qualified and got some other cuts (at the Summer Championships), like western championship times and all that stuff, so that was good. I made a couple finals and an A final."
Vetter says she's excited to have some company at the national championships, especially after attending last year's event all by herself.
"Last year it was pretty lonely," she said. "Knowing that Kristin got it this year, I was really proud of her and I was really happy to know that she'd also be coming with me."
Harper says Vetter will be looking to swim her way into as many final heats as she can after soaking in the experience last year.
"That's kind of been her goal all year long and if you look at her times going into it she has a very good chance of placing top-eight, top-10," he said. "When you look at Kristin, she just turned 13 not long ago and it's going to be her first time at age group nationals so it's kind of the same thing – get that experience, come back the next year with more swims and more chances to race."
AMAC sent 10 swimmers to the Summer Championships. Fifteen-year-old para-swimmer Nick Jones topped the podium in the 100-metre breaststroke by shaving nearly five seconds off his personal best time at 1:21.99, while clocking in personal bests in all seven of his events.
Ashton Scholly, Parker Maxwell, Emily Schlenker, Maria Pachan and Aspen Fetch all reached the final in at least one of their events, though none made the podium. Berlin Mastel and Trinity Shilka were also in action, however neither managed to reach a final heat.
The Medicine Hat Waves also sent two swimmers to the Summer Championships. Karsten Senft reached the final in the 200-metre and 400-metre freestyle events but missed the podium, finishing ninth and seventh, respectively. Jaivyn Barabe competed in three events but didn't reach any finals.