Marshall mural showcases regional history
Posted on July 16, 2019 by 40 Mile Commentator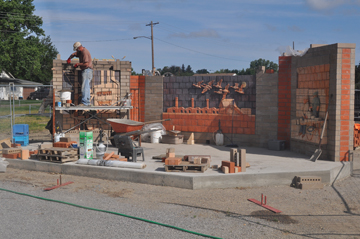 Alberta Newspaper Group Photo by Justin Seward The Redcliff historic park will have a mural depicting the area's history that will be attached to a stage when the park opens.
By Justin Seward
Commentator/Courier
Plans may have been in the works for a year, but now local artist James Marshall, with the help of Malcolm Sissons of I- XL Brick Industries, has built a masterpiece of a mural to depict Redcliff's history at the town's new historical park.
Marshall says the design for the mural was simple because there were already historic photographs available that the project was going depict, which included a couple of men loading a kiln, a worker unloading a press and a picture of the original brick plant.
"It was interpreted in a pen-and-ink drawing to begin with and into a mural (made) out of brick," said Marshall.
"Plainsmen clay blocks are what I use nowadays. The clay from a formula is a little bit better, more plastic, I can do more things with it but it's also a little more fussier and difficult to work with.
"It's turning out rather well. You get better colour with plainsmen material and I can do more. I've 3D'd two of these murals. I think it's been pretty effective actually."
The intentions of the mural according to Marshall were a "foregone conclusion" because the focus was always to show what went on inside the brick plant over the years.
"The historic photographs really worked out well," he said.
"The idea of it is a stage. This is the back drop to the stage here. Meetings and speeches might be held here and this acting as a sound back drop. We've got a mound here where people will sit as an audience."
Marshall says, "It's a nice marker of the plant."
Sissons, who spearheaded the historic brick park, said the plan was always about creating various amenities in the park on top of the already existing shale trail and remnant pieces of the old plants.
"We were looking for something that would be a cornerstone, real legacy monument," said Sissons.
"I worked with James Marshall on a number of different projects and his connection to the industry was a natural connection to think of a mural and he went to work on it way beyond the initial discussion was. We ended up with three murals."
Sissons says the hope is to use the stage for performances for musical events and kick offs to runs and ceremonies.
People will also be able to get the story of the three plants in the area including press brick, Perry and I-XL Brick Industries on a piece behind the stage.
The mural is expected to be done in the next week, while the park itself is hopefully going to open in the fall.