Old Spitz Plant buyers look forward to opportunity in Forty Mile area
Posted on July 16, 2019 by 40 Mile Commentator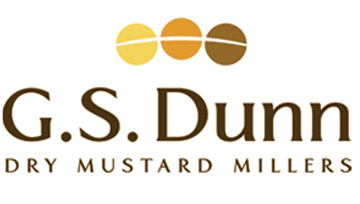 G.S. Dunn website photo G.S. Dunn Dry Mustard Millers are the new tenants of the old Spitz Plant.
By Justin Seward
Commentator/Courier
Ontario's G.S. Dunn Dry Mustard Millers are the new owners of the old Spitz Plant on Highway 879 and are enthused about being in the County of Forty Mile Region to distribute their mustard seed and products world-wide.
The dry milled mustard products are blends of yellow, oriental and brown seeds, and are broken down into mustard flour, ground mustard, cracked mustard seed, mustard bran, treated or untreated ole mustard seed and deactivated mustard seed.
"It's been great," said G.S. Dunn president Jason Gould.
"We've been really welcomed in the community and the reaction has been very positive. We're pleased that former workers of Spitz who've knocked on the door wondering if there is any employment opportunities. That's really exciting for us."
Employees will be hired locally and most of the workers that are on staff so far were from the former Spitz Plant, he added.
The hope will be to create a local growers group in the area to give an outlet to mustard crops.
Gould says the property was appealing to G.S. Dunn because of the 22 acres in size and 55,000 square feet of warehousing and processing space.
"It's a seed cleaning plant, so right off the bat that catches your attention," said Gould.
"Then you dig a little deeper into the community, the opportunity that this is one of the best growing mustard areas in the world, you start to add all these things up together. We got really excited about this early on. PepsiCo was fantastic on the acquisition and we're just anxious to get going."
Since the sale in May, the mustard seed company immediately began with upgrades to the facility.
"The sunflower seeds are bigger than mustard. We got to make sure there is no holes that mustard is going escape (through) and certain screen sizes are different," said Gould.
"We've got to update that. Then looking at the conveyance system between the bin storage. It's also mapping out. We're putting in a packaging and a tote packaging line. It's basically bringing engineers to figure out ere this all is going to fit."
The mustard seeds are more freight logical to food businesses the product is sold to on the eastern seaboard of the States because of their headquarters being in Hamilton.
But now it was vital to have a location in the west for their supporters in the area.
"We're bringing in the cheapest of the freight," said Gould.
"Then you have BI-products with population concentration and food line concentration, it's easier to find markets for that. That's substantiated the business model of G.S. Dunn. in the past. But as we look to grow and have a second location, having something on the western side of North America became paramount and for us to grow our business to the next level."
Distribution of the seeds will be to western states, B.C. and Alberta.
"It's something we've waited for, for about a year," said County of Forty Mile Reeve Steve Wikkerink
"I think what's really nice about who's in there now is a lot of its product. We know we can grow in southern Alberta. Sometimes our climate was a little bit harsh for our producers to grow the high quality sunflowers that Spitz needed. But we know that southern Alberta and southern Saskatchewan are really good at growing mustard. This is a real good fit for the county."
Wikkerink says he realizes that the mustard company is going to less employees than at PepsiCo ended with but will add on as time moves along.
"Anybody back to work is better than zero," he said.
Phase 1 of the upgrading was to get the seed plant up and running.
Gould says delivery of seed has been accepted and stored but can not be cleaned right now, but it is expected to be up and running by September and take a year to get up and running.
Then moving forward into year two there will be milling lines installed.
The facility has been vacated since last July en PepsiCo closed up the Spitz Plant and moved all operation to the States.