Parks Day bound to bring in family fun this weekend
Posted on July 16, 2019 by 40 Mile Commentator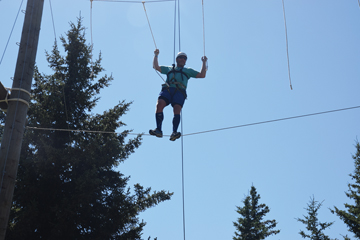 Kevin Jesske participates in the YMCA High Ropes Course at Elkwater on Parks Day in 2018.
MO CRANKER
Alberta Newspaper Group
The Elkwater Community Association is hosting an Elkwater Park Day event on Saturday July 20 at the Elkwater Community Hall.
Things start in the morning with a 10 a.m. craft market running until 4 p.m. at the hall. Organizer Elaine Ziegenhagel says the market will offer a lot of variety.
"We're just about full with vendors and we've got a bit of everything," she said. "We have homemade items and people who run small businesses — it's a good place to get something nice and to support local."
The group is then hosting a barbecue after the market from 4:45-6 p.m. with $5 buying one ticket.
"That gets you a pop, a hotdog or a hamburger and chips or veggies," she said. "We'll have volunteers working and making sure everyone gets what they want."
The barbecue is followed by a bingo session that opens at 7 p.m. — games start thirty minutes later.
"That's a $1 per card type of bingo that is open to families and it's cash bingo," she said. "We'll finish it up with blackout bingo and the end of it — just lots of fun all around."
The night will finish on a high note with fireworks planned to start at dusk.
"We've been doing this for many years and the fireworks are a fun way for people of all ages to finish up a fun night," she said. "We do the fireworks on Parks Day rather than July 1 because there will be more campers out there to enjoy them.
"We do all of this to get the community out and together for the day — just to celebrate our community."
More to do (subhead)
The park staff will also be hosting events throughout the day on July 20 with a number of free things to do with the family.
The events kick off and run until 4 p.m. and it includes and Elkwater Fire Department demonstration at the Learning Centre Field, a bike rodeo at the Amphitheater parking lot, a Parks Day slip and slide and the Learning Centre Field and a Parks Day cake cutting.
For more information go to http://www.albertaparks.ca/parks/south/cypress-hills-pp/activities-events/events/