Bow Island library's solarium expecting a fall finish
Posted on July 23, 2019 by 40 Mile Commentator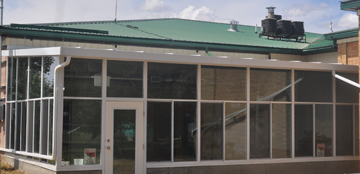 Commentator/Courier File photo
By Justin Seward
Commentator/Courier
The Susan Andersen Memorial Library's solarium has been in the works for three years and is now expected to be completed in the fall for locals to use all year round.
The project got underway about a year ago and progress is coming along says library board member Carla Robertson.
"We have the flooring in, the walls are painted and (walls) that need to be painted," said Robertson.
"I think there are a few final touches last time I was in for electrical but nothing major, just plugs and that kind of stuff. After that it'll be a matter of finishing touches done and putting some furniture in."
Robertson says there were delays along the way that were out of their control and were worked around.
"It was just change in the people organizing things at the town level and working around their schedule," said Robertson.
The plan for the solarium is to be a place for library programming, a reading room , displays and a meeting place.
Additional plants will also be planted to beautify around the facility.
"We hope to get the outside of where we're looking out done because right now it's not real great," she said.
"We're hoping to get that cleaned up and maybe start working towards landscaping and finding some proper bushes or plants for people to look out the window at instead of the dirt and gravel that's out there right now."
Landscaping will start next year, she added.
"There are just a few things we want to finish up before we have it open to the public for use," said Robertson.
"We want to make sure that it's going to be comfortable and get some chairs in there and tables."
The hope is to have finished and a grand opening in the fall.