Irvine subdivision's layout design to stay the same
Posted on July 23, 2019 by 40 Mile Commentator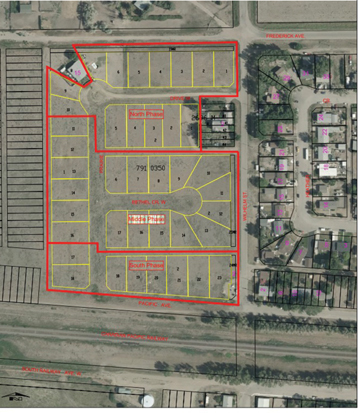 Cypress County Photo The current layout of the Irvine subdivision.
Justin Seward
Commentator/Courier
A 39 lot subdivision on the west side of Irvine that was adopted by Cypress County in the hamlet's structure plan last year will be a little while yet before a shovel is in the ground to begin construction.
"Council had asked administration to re-evalaute or look at options for possibly reconfiguring the way the 39 lots are laid out," said the county's director of municipal services Jeffrey Dowling.
"Once we reviewed the lay out, we felt that it's current status was the most appropriate design for what could be done with those lots."
Dowling discussed cost of updating infrastructure to council at their July 16 meeting
"It was estimated that to upgrade and do the repairs to existing water and sewer infrastructure that that would be estimated at approximately $458,000," said the county's director of municipal services Jeffrey Dowling.
"What MPE Engineering provided in terms of the $3,724,000, that would be as a developer build-out (on)the entire 39 lots. That would be putting in the pave streets, finishing the grading, making sure it's completely serviced with water, sewer, gas, electricity."
The $458,000 was just for upgrading the water and sewer lines, while the $3.7 million is build the subdivision out properly, he clarified.
"I was thinking about the community, Irvine itself, and what we want that to look like," said Coun. Robin Kurpjuweit.
" I don't think there is a business case behind developing a single lot. However, I think there could be a rationale doing a development in order to support the community. However if we want to bring some business into that area and help create a bit more of a community feel, there's not a lot of that in Irvine right now. The question is if we ever want to see that (and) if we don't have that in our long term vision to try and build towards something like that with a small community feel, encouraging business and helping to bring that in, I think that's the first thing that needs to be discussed is what do we want to see Irvine (to)look like."
Coun. Ernest Mudie says he supports moving forward with this project.
"We should move forward with this," said Mudie.
"We talk about supporting Prairie Rose School Division. Well if you build young family type housing across from the school, it would probably help out quite a bit."
Dowling says a request for decision will come back to council at some point.
Cypress County's Chief Administrative Officer Tarolyn Aaserud said a civil engineer will be selected in the near future and to bring this project up to them for them to look at.
Council approved the motion for administration to bring back a developer with a design build and taking no action at council's July 16 meeting.