Sheepdog trials ran all weekend
Posted on July 23, 2019 by 40 Mile Commentator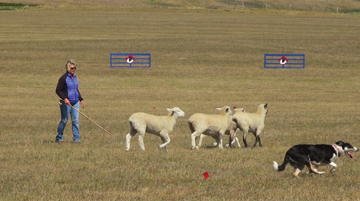 A GREAT CHALLENGE: Chris Jobe and her border collie Becca,5, successfully navigate the course at the Cypress Hills Sheepdog Trials on Friday.
By Gillian Slade
Alberta Newspaper Group
It takes stamina, skill, and determination to herd sheep across a hills, through a valley and get them into an enclosure in less than nine minutes.
Dogs at the Cypress Hill Sheepdog Trials showed appreciative spectators just how skilled they are.
"We love it. Very interesting. The dogs are very strong eyed," said Alan Penner who was watching from his chair on the sidelines.
Louanne Twa, from Okotoks, competed with her dog Gus, 7. She has five dogs that she is training and she raises sheep. She says it is about teaching the dogs to follow her commands but also to think for themselves because they are closer to the sheep than she is and can see what needs to be done.
Each dog with his/her shepherd/trainer commences the course at the same point that is marked with a white pole. Straight ahead, at the top of another hill about 350 yards away someone is standing with four sheep who have no idea what is about to happen.
The dog is itchy in anticipation waiting for a whistle and then the action starts.
The dog runs to the right or left, creating a pear shape, with the aim of coming up behind those sheep without startling them.
The dog is running as if its life depends on this competition – flat out the whole way. The shepherd may start giving instructions using a whistle and some shout verbal commands.
The idea is for the dog to coax the sheep towards the starting post but go between two fence panels on the way.
They all start with 100 points with deductions made for errors. Not getting the sheep between those panels is one of the challenges. On the course there are two more sets of those panels as they go from right to left. Another challenge is to separate the four sheep into two groups, called shedding, and then bring them back together again. The final stage of the course is steering them into a pen.
The dogs never give any indication of being exhausted as they run about three kilometres on the course. When it is over they all seem to know the first place to head – a plunge pool to cool off.
Chris Jobe and her dog Becca, had a good run. Becca successfully moved the sheep through all three sets of panels, separated them and brought they together again but ran out of time before the sheep were in the pen.
"I'm very happy," said Jobe and she came off the course and Becca jumped in the water.
Carol Rugg, owner of Yorkies, was enjoying the action as a spectator.
"It's great. Very interesting," she said.