Town of Redcliff to get joint emergency study done
Posted on July 23, 2019 by 40 Mile Commentator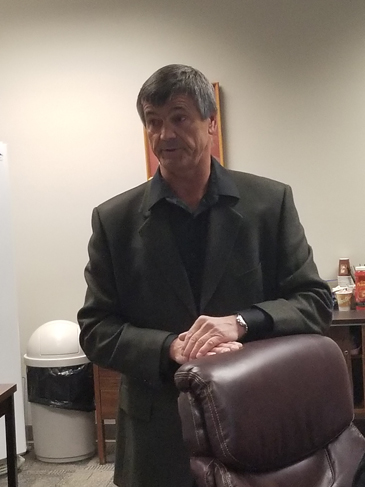 File photo Redcliff Mayor Dwight Kilpatrick
Justin Seward
Commentator/Courier
Town of Redcliff's council voted to go ahead with a joint emergency and fire services study at its July 15 meeting.
The town applied for an Alberta Community Partnership grant back in November 2018 to conduct a joint study between Cypress County and the Town of Redcliff and the town would act as the managing partner of the project.
A brief description of the project in the application was "the purpose of this project is to explore the option of inter-municipal collaboration between the Town of Redcliff Emergency Services and Cypress County Emergency Services; specifically, the Box Springs station located within Redcliff town limits."
"What I was told if there is any chance of building a common fire hall or something like that," said Redcliff Mayor Dwight Kilpatrick.
"Our hall is aging. We definitely have it full but it does keep the snow and the rain off. Cypress County leases their facility. I think they have enough space, that's not a problem. If they were willing to share some of the costs that it could be beneficial to both to have a common building.
"I guess in the long run they're going to look at all kinds of ways the two departments may or may not benefit from sharing some responsibilities. But I don't know how far that will go ."
Kilpatrick says anytime you can do something to benefit more than one person and save some money, it is a good move.
"This whole idea of all this Intermunicipal Collaborative Framework is all a nice handle," he said.
"It's all nice and warm to talk about. But if nothing really comes out of these talks then truly it becomes a waste of time. Even Medicine Hat, Redcliff and Cypress County, we have worked together and have been in each other's faces for years. There are things that can be done together and actually benefit all people involved and have costs lowered for all. When that happens, that benefits all the rate payers too."
The town and county were the successful applicants of the $80,000 grant that will be for the study.
Council decided to go with TSI as the company for the study, coming in at $55,418.00.
The study could be done by the end of the year, added Kilpatrick.
A brief from the council meeting
Arena parking lot
Council moved in favour of the motion to award the Redcliff Rec-Tangle Arena parking lot paving project to Transit Paving Inc. Also, reallocated funds from other top lift projects including the fourth street final lift, the third street final lift, east side surge tanks and upgrades to south trunk tanks of the eastside will help in this project completion. Total cost will be $321,062.50.