A local state of emergency is on for the next week in Cypress County
Posted on July 28, 2019 by 40 Mile Commentator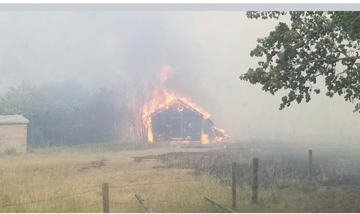 Dunmore Fire Station Facebook photo An out building is seen here engulfed in flames near Walsh on Saturday,
Justin Seward
Commentator/Courier
A local state of emergency declared by Cypress County will be in effect for the next week as fire crews monitor three separate fires that ignited on Saturday.
"The local state of emergency will remain up for seven days from when it was initiated," said Kim Dalton, Cypress County's director of emergency management to the Cypress Courier on Sunday.
"We've had fires on both spectrums and both ends of the county. The fire threat is extreme as winds keep on escalating throughout the heat of the day."
The Local State of Emergency was called because of the fire's path to residences and so that firefighters could enter properties to make fire breaks, he added.
Dalton says not all of the fires are extinguished as crews are still on scene, while local farmers and ranchers are still monitoring hot spots.
Crews from Brooks, Tilley, County of Newell, Rolling Hills, Saskatchewan, Hutterite Colonies, CFB Suffield and local ranchers helped fight the fires.
The Walsh area blaze flared up from the embers that resurfaced from a Wednesday night fire on the westside of Graeburn Road and extended to the south of Township Road 110 and to the north of Township Road 104.
Damage included to the out buildings, miles of fence lines, grassland, cropland, while there have not been any reports of livestock being burned and no houses were engulfed in flames.
"I was out there today and power polls are still on fire. It's controlled but not extinguished," said Dalton.
The heavy winds also caused a flare up of a fire near Suffield which was from a semi-truck accident near Highway 878 on Wednesday.
"We've been dealing with the Suffield one ever since Wednesday," said Dalton.
"It flared up a couple days in a row. The wind has not been our friend with that one."
Then firefighters attended to a fire west of Irvine on the north side of the Trans Canada Highway, which was caused by the igniting of a solution by the railway tracks.
"Crews are on scene there right now. They're working on breaking up the hot spots in some of those creosote ties that are a long the railroad bed," said Dalton.
"There's no flames (and) nothing smoldering anything and going from there."
He did caution that area might not be out of the woods just yet with the warmer weather and the heavy winds expected to continue.