Beck appointed first female fire chief at a central Okanagan fire department
Posted on July 30, 2019 by 40 Mile Commentator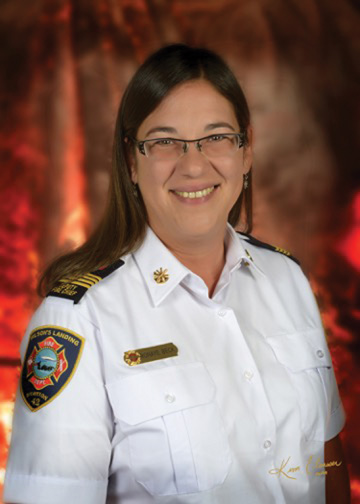 Photo submitted by Ronaye Beck Ronaye Beck of Redcliff was promoted to fire chief of the Wilson's Landing Fire Department last week after a short stint of being deputy fire chief.
Justin Seward
Commentator/Courier
Redcliff native Ronaye Beck is the first female to take charge of one of the four regional fire departments in the central Okanagan, B.C. area after being named fire chief of the Wilson's Landing Fire Department last week.
Beck, who is the daughter of current Elkwater resident June Blaquiere, previously served as the acting chief since the retirement of Don Bennison on Canada Day.
"I'm incredibly honoured to representing the team," said Beck.
"It's quite a fantastic opportunity and I'm excited and looking forward to the challenge."
Beck initially joined the department four years ago where she served as an instructor and trainer for exterior firefighting before becoming deputy fire chief midway through 2017.
"I actually joined the department just to give back to the community, said Beck.
"At the time I wasn't thinking that would have (a chance) at the chief in the future. This is just an opportunity that presented itself and I thought it would be a great way to meet some people in the community."
Once she got on with the department, her previous experience in training and passion for safety allowed her to take on more a leadership role in the hall.
Additionally she was involved in department planning, administration and daily operation as well as leading the first medical response status.
Her previous occupation was being a chemical engineer where she worked in the petro-chemical industry for 10 years and gained a passion for process safety, training and project management.
She then worked overseas in Oman under a six month contract to help with a new oilfield development to train operators on oil rigs.
It was while in the Arab country she happened to meet the right people that wanted to build a technical institute which was the first one ever built in the country.
"We had a fully operational rig for drilling rig technicians. We actually built the world's largest welding school, which was pretty amazing," she said.
"We were doing high voltage electrical training, health and safety training."
Working overseas for 10 years allowed her to retire early, she added.
She decided to settle in Kelowna where her father now resides and she wanted to find something to do in her retirement.
"I happened to find the local fire department and joined as a volunteer and next thing you know I'm in fire chief role," said Beck.
"It's the quite the change in the career you could say."
As fire chief she will be overseeing 22 members in the department.