Farm safety consultations come to Cypress County
Posted on July 30, 2019 by 40 Mile Commentator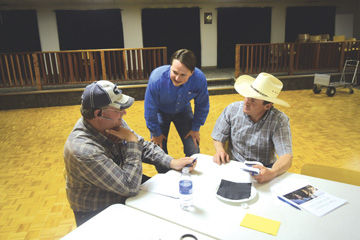 Alberta Newspaper Group photo by Jeremy Appel Agriculture and Forestry Minister Devin Dreeshen (centre) chats with ranchers Greg Bauer (left) and J.J. Herman at the Irvine Sports Complex on Saturday.
By Jeremy Appel
Alberta Newspaper Group
Despite wildfires leading to a state of emergency in Cypress County, more than 50 stakeholders attended consultations with the agriculture and forestry minister at the Irvine Sports Complex to discuss upcoming changes to farm safety legislation.
On July 27, Devin Dreeshen held discussions in Brooks in the afternoon and Irvine in the evening, accompanied at both locations by local UCP MLAs Drew Barnes and Michaela Glasgo, as part of a province-wide tour of rural areas throughout the summer.
The previous NDP government's farm safety legislation passed in 2015 — Bill 6 — was criticized for a lack of consultations with affected parties, as well as placing excessive financial burden on employers.
Dreeshen says the "repeal and replace" of Bill 6 will occur in the fall, when legislature's back in session.
A major concern he said he's heard from many farmers and ranchers — including those in Brooks and Irvine — is that Bill 6 requires them to purchase Workers' Compensation Board coverage, even if they already have private insurance of their own.
"A consistent theme we've always heard is choice when it comes to insurance," said Dreeshen.
Some — though not all — private insurance plans cover workers when they're off the job, which WCB insurance does not, he added.
"Those types of insurance that were actually beneficial, not just for the employer but the employee, is something that employers were never going to give up, because they wanted to keep that better plan," Dreeshen said. "WCB is very limited."
Another issue he says came up is Bill 6's definition of a 'farm.'
"Whether it's a greenhouse or a nursery, they were classified as farms prior and then they got changed, and really they are essentially farms," said Dreeshen. "Farmers want to be able to have those types of industries classified as farms, as they were before."
He says there's a "misconception" that farmers aren't concerned about the safety of their employees.
"Ultimately, these are farmers who have the same employees for many times of lots of different years, so they want them to go to bed safe," the minister said. "Farms are a very safe place."
The role of government should be to foster a "culture of safety, where farmers know and workers know that these are the best ways to actually go about their work," as opposed to further regulation, Dreeshen said.
He says must adopt a more proactive "fight back strategy" to promote the province's agricultural sector, adding thinly-veiled jabs at a recent tweet from the Weather Network calling on people to consume less beef and actor Pamela Anderson's criticism of the Calgary Stampede.
"Whether it's the Weather Network or celebrities attacking our industry and our modern way of producing food here in Alberta, there needs to be a pushback against that, or at least the telling of it in a positive way," said Dreeshen.