Train derailment forces Irvine residents to evacuate
Posted on August 2, 2019 by 40 Mile Commentator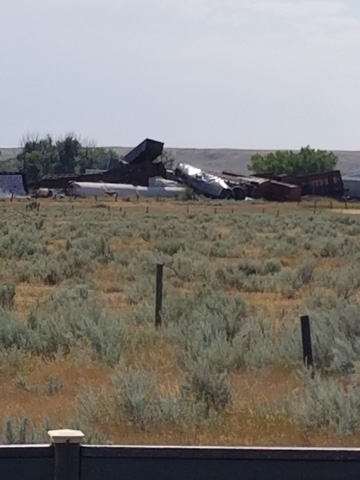 Photo Submitted Wreckage from the train derailment this afternoon near Irvine.
Commentator/Courier
A train derailment occurred shortly after 3 p.m. west of Irvine on Friday afternoon, forcing the evacuation of the hamlet and the nearby Mavista Acreage.
"Residents of the Hamlet of Irvine are being told to evacuate immediately as a precaution for their safety, health and well being," said Cypress County officials in a media release that was released earlier this evening.
"A train derailment today with potentially hazardous products near the Hamlet of Irvine has resulted in a mandatory evacuation of the community."
Firefighting crews and RCMP are on scene to stabilize the situation and assist with the evacuation.
Residents within a seven kilometre radius of the hamlet are required to evacuate and report to Cypress County's office in Dunmore where there is a reception centre set up.
CP Rail send a statement out Friday evening saying
"At approximately 3:20 pm local time, a CP train derailed just east of Irvine, Alta. CP has dispatched teams to the site."
Cypress County for the second time in a week have declared a state of local emergency and is working with stakeholders and partners to assist with the evacuation.
As a result of the train wreck, Highway 1 eastbound between the Highway 41 South intersection and Walsh is closed.
The detour route is north of Walsh on Range Road 12 before heading north on Township Road 132 and west to Highway 41.