Canine society looking to start up rural service dog program
Posted on August 6, 2019 by 40 Mile Commentator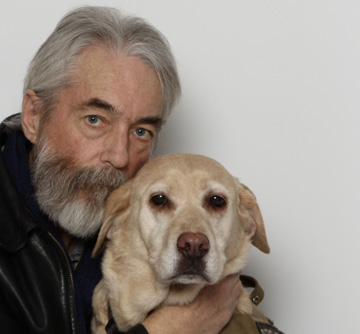 SUBMITTED PHOTO Douglas Murray and his dog Kaila pose for a photo. Kaila is the first service dog in Alberta under expanded legislation that allows dogs to be trained for more than helping deaf and blind people.
MO CRANKER
Alberta Newspaper Group
With new legislation now set, the Cypress Canine Society is looking to speak with residents in the areas in and around Medicine Hat about potentially getting set up with a service dog.
Recently, legislation around service dogs has been expanded past just service dogs for blind and deaf people — meaning people living with a wide range of disabilities and medical conditions are potentially able to get a service dog.
"It was probably 20 years ago since the last time it was revised," said Cypress Canine Society member Douglas Murray. "What's new for us is really just catching us up to speed with the rest of North America where an owner can train a dog to become a service dog.
"We're now checking with people in smaller communities to see if they feel the need for a service dog and if they have a dog we can train."
Murray says a service dog trained by agencies in bigger city centres will cost $30,000 at minimum and can sometimes cost much, much more.
"People living on AISH payments just don't have that kind of money," he said. "People are trying to live off of $800 and every small town has someone on AISH.
"What we're telling the government is that we can circumvent a lot of hospital visits with an SPCA dog and food."
Murray says his group helps people get a trained dog free of charge and that they bring many benefits.
"Studies show that people with service dogs have their lives extended," he said. "When these dogs get certified, they're Alberta certified — it's the same tests that the blind and deaf dogs get.
"These dogs really do help people."
Murray says dogs can help people in a number of different ways.
"With a number of medical conditions, there's no machine that can do the job for us," said Murray. "For example, with seizures, there's no medical device that can tell when one will happen — a dog is it.
"It's as simple as a dog barking when there's someone at the door for a deaf owner."
Anyone interested can call the society 403-641-5661.