Graburn fire still has active hot spots
Posted on August 6, 2019 by 40 Mile Commentator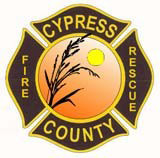 Commentator/Courier
Cypress County officials provided an update on the Graburn fire and the Irvine train derailment on Tuesday.
County firefighters with assistance from Alberta forestry have finished with the perimeter fire guard and the site was demobilized on Tuesday for the Graburn fire that has been active near Walsh since July 27.
Crews were working with a water delivery system, using the creek, agriculture pumps, hand tools, chain saws, sprinklers and hose lines.
Evening operations for the fire are on a monitor and patrol status with the coordination through the Walsh station chief.
Landowners and volunteers are still heavily involved as they are using handheld thermal imaging cameras in the evening to continue to find hot spot detections.
The Irvine train derailment happened on Aug. 2, resulting in 200 people being evacuated from the hamlet and the nearby Mavista Acreages due to a Styrene leak from the train.
As of Tuesday, CP Rail crews are still working west of the hamlet doing clean up and there is still expected to be activity and noise in the areas.
If you were a resident affected by the train derailment, you can contact CP Rail's claim coordinator at (403) 319-6364.