Inaugural Sip and Shop brings in summer shoppers
Posted on August 6, 2019 by 40 Mile Commentator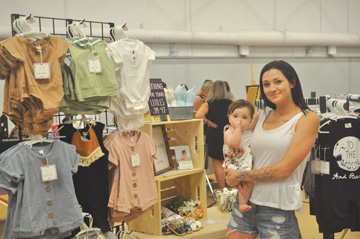 Commentator/Courier Photo by Justin Seward Wild Prairie Baby Boutique owner Jenica Smith of Redcliff and her baby Teighan McNulty displayed all the outfits for the infants at the inaugural Seven Persons Community Sip and Shop at the hamlet's community hall on July 29.
Justin Seward
Commentator/Courier
Taylor Kleinknecht and Allie Penner came up with the idea of a summer market a little over a month a go and on July 29 the inaugural Seven Persons Sip and Shop took place at the hamlet's community hall.
"Allie and I are just local ladies who wanted to organize this," said Kleinknecht.
"There's lots of summer markets that go in the area. We thought we'd jump on board and all these ladies (in the booths) are locals and lots of them are moms. We're moms too and it's great to be able to do this and meet and greet with everybody in the community and support them in this."
Both ladies run a home beauty counter business and thought it would be a great idea to get exposure for themselves and follow through their love for markets.
"We know that summer markets are a big thing in the area and there are tons in Medicine Hat, so why not Seven Persons," said Kleinknect.
There were several handmade jewelry booths including the likes of Fifth Avenue Jewelry to Little Moon Stone and the local Free Spirit Designs. Jenica Smith's Wild Prairie Baby Boutique out of Redcliff was on display as well as wooden signs, Epicure and the organizers beauty counter business to name a few of the businesses that were in attendance.
Kleinknecht says the turnout was bigger than anticipated because the ladies were not sure what to expect after stampede week.
"We've only been planning this for about a month, so we weren't really sure how it would go," she said.
"But in this week people have been pouring in messages to be involved. That's been super great to see people support this thing and have it in the local community."
There was an expectation of between 100 to 200 people to come through the doors during the evening.
The hope is to make the summer market an annual event.