Young is tearing up the race track in her rookie season
Posted on August 6, 2019 by 40 Mile Commentator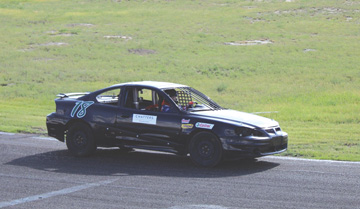 Photo Submitted by Brittney Young Commentator/Courier File Photo Brittney Young is seen here in her first year on the track in 2019. She was grateful to be on the track with her fellow racers in 2020.
Justin Seward
Commentator/Courier
Burdett race car driver Brittney Young is showing tremendous confidence in her rookie season driving her 2002 Grand AM GT in the Rumble Bee V-6 class at the Medicine Hat Speedway.
So much so that the 20-year-old has finished consistently in the top half of the nine driver circuit and has even brought home a first place trophy in one race to sit comfortably in third place in the points standings.
"(I've) been positioned OK," said Young.
"It depends on the night. It depends how I drive and how everything else goes on the track. I could end up anywhere from last to first. I'm consistently close about fourth or third."
Qualifying has added to her points total lately, having finished second the last two weekends in a row.
Points are gained through qualifying and for finishing in the first and second heat as well as the main heat.
"It's just so much fun. I love driving the car," she said.
"It's just like a big family. You just wave at them. Half the time we're in caution laps and you're just yelling at each other and we hear every third word."
Young says the mind set has been just to focus on her car and knowing where to position herself.
"Basically I don't want to put it in the wall," she said.
"Like that's my biggest goal is to never put my car into the wall. My first race, I was so happy because I came off and I didn't crash my car."
The cars are equipped with Go Pros and that is where the racers get feedback for themselves.
"We have two," she said.
"Depending if my brother (Alex) is racing or if my dad (Glen) is racing, I'll have two. So I'll have a rearview and front view to see what's going on either way of the car. Sometimes I'll only have the rear view depending on what's going on. My dad will upload them to You Tube and we'll go and watch them and be like 'OK you could've been here,' and kind of review it."
Both her father and brother are her pit crew.
"They'll watch me and see how I'm driving and give me some tips, she said.
Her mother Gwen is also seen at the speedway quite a bit as she is the secretary.
The most important thing she learned was how to press the gas and break quickly in order to drive faster with more control.
The Rumble Bee division has drivers that range from teenagers all the way up to their 50s.
Laps are done in about 21 seconds in this class.