#HALOGrowCrop's harvest a community effort
Posted on August 13, 2019 by 40 Mile Commentator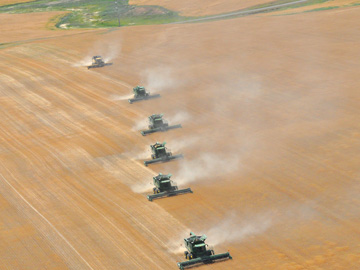 An aerial shot from the BK-117 of the combines.
By Justin Seward
Commentator/Courier
The inaugural #HALOGROWCROP initiative that was announced in April harvested its 160 acres of Hard Red Spring wheat variety on a piece of the Kuizenga Farm just off of Highway 885 on TWP Road 104 on Aug. 8.
Seven combines harvested around 20-25 bushels per acre which brought in about $21,000 for HALO Rescue. The harvest was a success despite the drier conditions
"It was a pretty ambitious effort," said Dale Thacker, HALO's chairman.
"This is special stuff. Had it rained it could have been highly lucrative. It's allowing the whole community to be involved. That's the nice thing about it, it becomes a joint effort."
Allen Kuizenga, who spearheaded the event with HALO, says it was important to recognize HALO with this event because with the rescue helicopter switching to a twin-engine model that this was a way to help fund the new machine.
"The dryland this year is living up to its name," said Kuizenga.
"There is a reason why they call this the Palliser Triangle. Some combines made passes through here already. It's between 20 and 25 bushels an acre."
"If we would have had a wet year, aside from the last two years, we could have made three times (the bushels)."
Seeds were donated by Tony Crooymans & Sons and Kuizenga. Barnwell's ICI donated the fertilizer, while the chemicals were donated by Taber Home and Farm Centre and the agronomy by Lethbridge's Promax Agronomy. Local area farmers and ranchers pitched in too and make up a majority of the HALO Rescue board.
"Everybody that was involved with this was more than happy or willing to do whatever they had to help this," said Kuizenga.
"If you needed spraying done, you made a phone call, and it wasn't a matter of the people fitting in. It's 'sure we'll be there.' It's the same with combining. There are farms out here that are already harvesting. They stopped their harvest to come out here and help with this."
Thacker said "Allen has a put a lot of effort into this."
"This is a one horse show. This was a vision and it takes a lot of work. It doesn't happen by itself. I thank Allen for doing what he did here."
The proceeds went back into HALO's annual budget of $2.6 million.