New Blues at the Bow president looks to keep a good thing going
Posted on August 13, 2019 by 40 Mile Commentator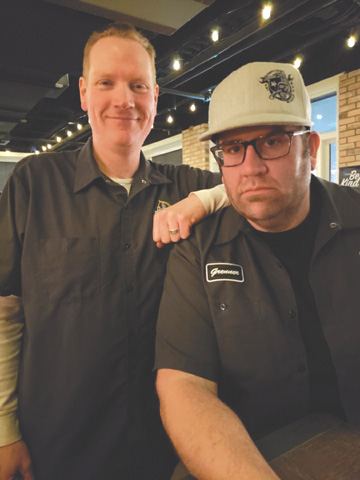 Submitted photo New Blues at the Bow president Jason Riddal with past president Grenner Veilleux.
By Stan Ashbee
Alberta Newspaper Group
Blues at the Bow, in Bow Island, is located in the historic Bow Theatre — one of the community's premiere attractions and locales. "The house is a down-home club in the tradition of juke joints of old," it is stated on the venue's official website. It's the combination of a great sounding live concert venue with the social and dance benefits of a bar.
Bow Island's small-town treasure has a balcony, three-tiered levels of table and chair seating and the sunken, infamous sloped dance floor — which provides excellent sight-lines. The venue also features an on-site state-of-the-art sound system. Blues at the Bow is a non-profit organization run by a committee of devoted volunteers.
In 1993, the Bow Island Historical Society renovated the theatre and formed the Blues at the Bow. This past April, at the society's Annual General Meeting (AGM) a new president was elected. Jason Riddell takes over the reins from Grenner Veilleux, who was at the helm for the past few years.
"It's actually been fantastic because the crew of volunteers we have running the place make my job very simple," noted Riddell, in regards to how the new position has been going, thus far.
According to Riddell, he has been a member of the society for about eight years. "It was 2008 when I started going. I started volunteering with the group maybe a year in after going to a few shows," he said, adding he then joined the board.
Before even coming out to any of the shows, Riddell said he often heard about the Blues at the Bow because he's originally from Brooks, which is not too far away. "Always heard about this blues club in Bow Island, which is just a tiny little town. Why would they have a blues club?," he would ask. And he was always told it was fantastic. "But I just never made it out," he added.
Once he moved to Bow Island, Riddell said, he decided he had to check out the Blues at the Bow. "Some people we met were part of the group and they invited us and we came. I maybe missed five shows in those 10 years, just about. It's pretty amazing."
A new season began this past May with its first show. "We have two more lined up," he noted. MonkeyJunk will be hitting the Blues at the Bow stage Sept. 21 and Jack De Keyzer will be performing Nov. 23. For both shows doors open at 7:30 p.m. and the show starts at 8:30 p.m. For more information visit bluesatthebow.com. Riddell said there are six shows a season and there will be two more after November.
Moving forward, Riddell believes the club is already running well. "I just want to keep spreading the word about how fantastic it is," he said.
"It's that great of a place and the calibre of acts we bring to this little community and even to the area is unbelievable considering it's all volunteer-based and everything we make goes back into the club. It's a jewel," he added.
When artists come to the venue, Riddell said, and they find out it is volunteer-run and non-profit they are always surprised with how professional everyone is. "And how appreciative we are to have them there. They always walk away saying 'We want to come back. We love this place. It's amazing.'"
Riddell said the atmosphere, the sound system and all the equipment is high-calibre at the Bow Theatre and people love to dance. "Nobody has ever complained about the sound," he said.