Capital Power give a first hand look at its wind turbine project
Posted on August 20, 2019 by 40 Mile Commentator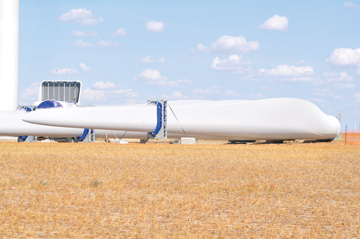 Commentator/Courier Photos by Justin Seward Capital Power hosted a tour of their wind farm south of Bow Island on Aug. 15. Guests could see wind turbine blades, a basic rebar foundation, a concrete foundation and a fully built turbine.
Justin Seward
Commentator/Courier
Representatives from Capital Power took local media, Taber-Warner MLA Grant Hunter and council members from Bow Island and the County of Forty Mile on a tour of its $325-million, 56-turbine Whitla Wind Farm on Thursday.
"The whole idea was to give you, the media, a close up of how this thing is coming together and gives you an opportunity to talk to local officials," said Jerry Bellikka, Capital Power's director of government relations.
The tour took attendees through two foundation digs with the first site being a rebar frame, which contains 40 tons of the material, and the second site was a fully poured turbine foundation with 53 tons of concrete.
Bellikka says the poured site is the equivalent of 53 truck loads for every turbine location.
"Once we know it's solid and ready to go, we can start back filling and then we put the wind turbine components on top and build a tower and put the nacelle ( a cover housing that stores all the generator components) on top," he said.
"The blades are the last thing before the hub goes in. Then we have to do all the testing and make sure everything is up to spec before we can put the turbine into service."
One to two foundations are being poured per day.
"You can't really pour when it's hot," said Bellikka.
"We start pouring concrete at five in the morning. By the time they're done, that's when the heat of the day is starting to come in. We have to keep them cool so they dry properly."
Twenty-five of the 56 foundations have been poured.
Bellikka says three to four turbines have been assembled per day.
"Probably the cleanliness on each site," said County of Forty Mile Reeve Steve Wikkerink on what intrigued him the most about the tour.
"Construction sites aren't normally known as being clean. But at each site that we went to today, no matter which stage they just finished, it was very clean. I like to see that."
Wikkerink says as a county they knew there would be some hiccups with this project.
"We knew there was going to be a lot of pressure put on our road system with the traffic that is coming ," he said.
"As it turned out this year with very little rain, we had not a lot of dangerous issues but at the time it was getting dangerous with the dust. Capital did work with us to address those issues.
"I think that will turn into a learning point going forward (and) what we need to do on another project."
The county has to look at the project as a natural benefit because of the $1.6-million loss on its oil and gas taxation with them shutting down, he added.
"With the wind energy coming in, it's going to help us replace that loss," said Wikkerink.
"If we didn't have this on the horizon, I think we would have some really hard decisions to make as county."
Hunter says it's exciting to see projects in this area.
"Taber-Warner is always interested in bringing new projects into this area," said Hunter.
"It's just good to see Capital Power here and Jerry has given us a great view of what's going on here."
He says the project could not come at a better time.
"Alberta's struggling," he said.
"This south area really punches above its weight when you think about it. Just the heat units we have down here. You've got the water pivots, irrigation, farming. It's just a great place to be."
If there is a business case for more renewable energy projects then they should be moved forward, he added.
The project will be done by December.