Cowboys for Kids fundraiser keeps Stroh's legacy alive and well
Posted on August 20, 2019 by 40 Mile Commentator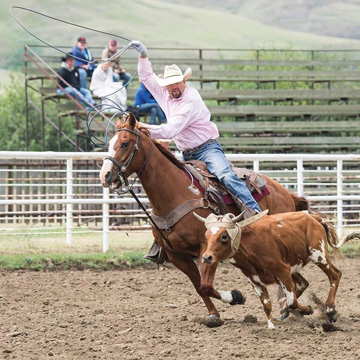 Blair Stroh is pictured here steer roping. Stroh's life was cut short nearly two years ago and the Cowboys for Kids fundraiser was created in his honour to help kids participate in sports.
By Mo Cranker
Alberta Newspaper Group
Roughly two years ago, Blair Stroh's life was tragically cut short.
Today, his legacy lives on in through his charity, Blair Stroh Cowboys for Kids.
The charity work is handled by his close friends and family and is hosting a rodeo event Aug. 24 to raise funds to help its programming.
"Blair's accident was Aug. 24 two years ago and this is going to be our first charity event like this," said Blair's sister Karla Stroh. "It's going to be a special event for everyone involved."
The event is running in Irvine at the rodeo grounds and will feature a full day of events, said Stroh.
"We're going to have team roping and barrel racing — we have open team roping, a number 10 and a junior pro am," she said. "The junior pro am is a junior roper teaming up with a senior and we have junior, senior and peewee barrels.
"The event will also have a beer gardens and a small silent auction."
All money raised at the event will go to helping children get into sports.
"Blair taught rodeo for a number of years, taught at the Hidden Valley Ski hill for years and he was also his daughter's volleyball coach," said Stroh. "Sports with kids were always such a huge thing for him, so after his accident we tried to think of something that we could do to give back to the community.
"We're now raising money to help kids afford sports — everything that we're going to do with this charity is going to be for the kids and helping organizations that help kids."
While the name of the charity may be Blair Stroh Cowboys for Kids, the organization will be helping kids play a wide variety of sports.
"Blair would have been a big supporter of this — definitely," said Stroh. "He was a big kid, even though he was a dad and a grown up, he was one of the funniest guys I knew.
"He did everything for kids."
Stroh says anyone looking to take part in the event can call her at any time at 403-488-4887.